Whoa. The next twenty days were a whirlwind of changing weather, lots of coastal climbs, days or rain and fog, but also some warmer days. Spring on the Pacific Coast this year was challenging.
From Tillamook, OR south the torrential rain continued. Started getting a bit demoralized by my lack of progress, but with visibility on the road so poor I also decided it was dangerous and not fun!
April 22 was Earth Day and the sun was shining. In Yachats, a group of guys at the brewery waved me over and bought me a beer and a local journalist handed me a huge 32oz IPA for the road. Such a great crew, all of who repair and give away bikes for kids. Nice!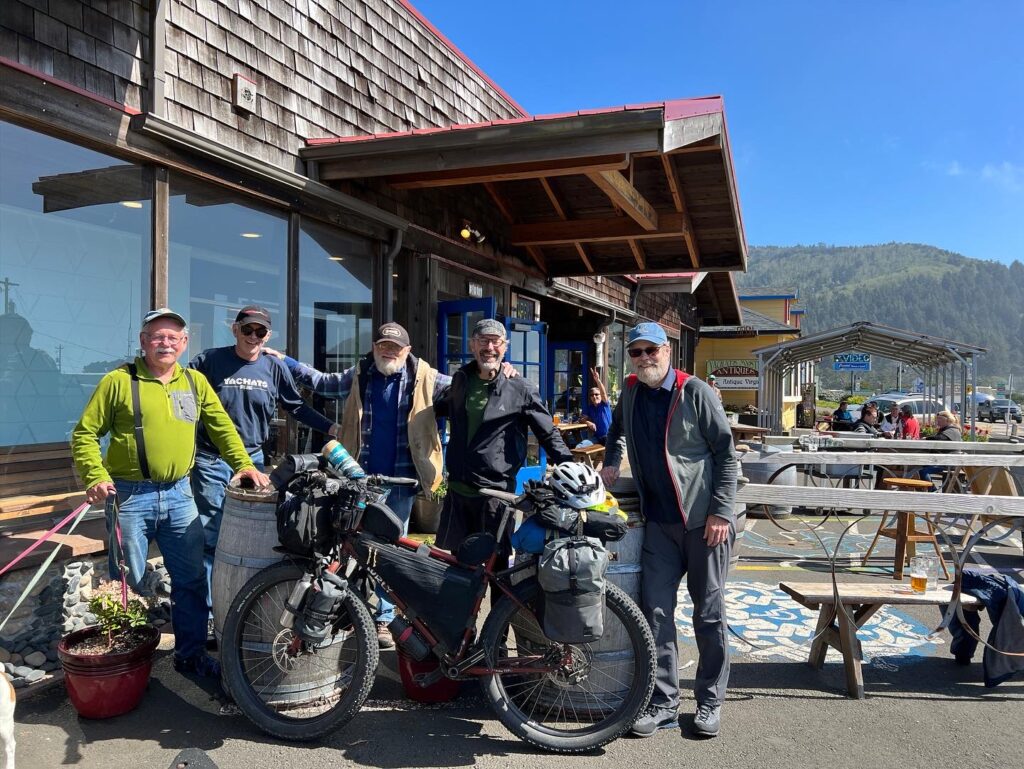 Headed to Carl Washburn SP for the night and met Paul who has just begun his world tour and was about to begin the TransAm route. We had good chats and enjoyed camping dry. The next day went through Lincoln City and after a sub sandwich at Ruthies in Reedsport made it to Tugman SP. Charge stations, old bus stops for cooking out of the weather and a whole hiker-biker camp to myself.
Lots of climbing to Bandon and Bullards Beach SP. Seven Devils Rd was more like 70 devils. But it was sunny! Stopped by the very popular Whiskey Run MTB Trail system and chatted with a couple of the locals. Gotta come back here to ride. The bridge at Coos Bay is big, and ran into Peter again who saw on the road but we never ended up in the same camps.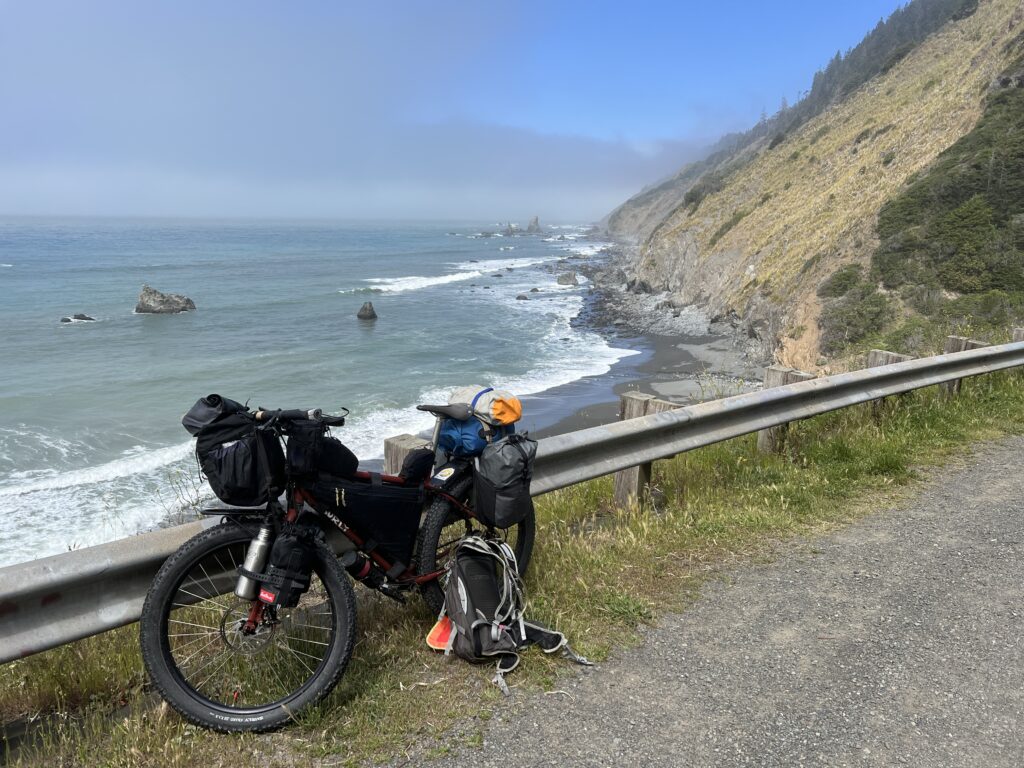 Lots of creaking sounds from the bike but couldn't isolate it. (Jacob at Campfire Cycles finally found it – I broke a pedal spindle!) Listened to the wild turkeys roaming through camp and again had the whole place to myself. Walked to the beach and enjoyed the solitude.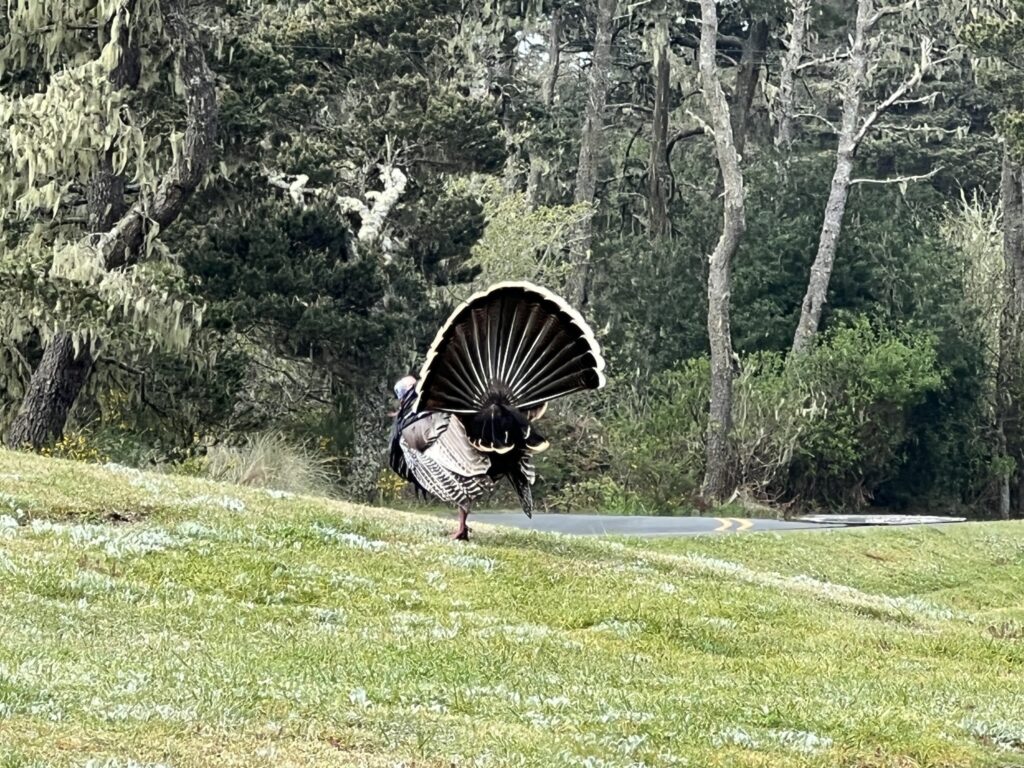 In Gold Beach I got a motel and walked to the Porthole Cafe on the Rogue River for seafood and beer. Met Nancy the manager and had a nice talk. Wa a chilly evening and could hear the ospreys calling overhead as I walked back to my room.
April 26th dawned with sun, showers and rainbows. Stopped at High Hill Cycles to chat with owners Alison and Michael, who were very sweet. Passed Kissing Rock and started the massive climb over Cape Sebastian. Arch Rock Picnic Area was gorgeous and lots of older fellows came to chat having been cycle riders themselves. The Sam Boardman Scenic Corridor is spectacular!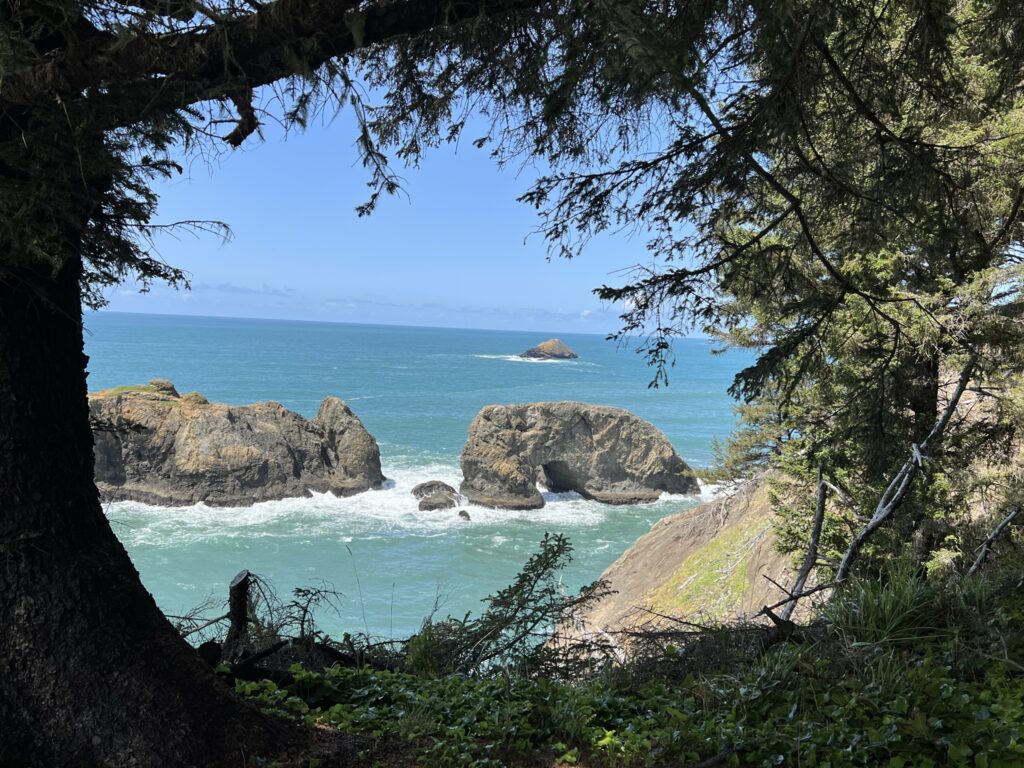 Entering Brookings there's a lovely bike path leading right to the hiker-biker sites at Harris Beach SP. Perfect, but very windy. Simon from Switzerland rolled in a bit later and we shared a beer and chocolate and talked about bears and cougars till dark.
The next morning we grabbed breakfast at Macdonalds, the only thing open and parted ways. He had to be in San Francisco in a week to fly home for a new job. I headed to Crescent City, CA and a couple nights at a Warmshowers host. Katie had gotten St Pauls Episcopal Church into it from a passing cycle tourist and now they host about 100-200/riders a year!
Spent the first night with Karina and Peter from Austria who done a great deal of world touring and the next night two young guys, Zach and Nils. They were a hoot and Zach made me a Hungarian breakfast and a massive burrito to go the next morning. He was quite the chef and made enough food for dozens!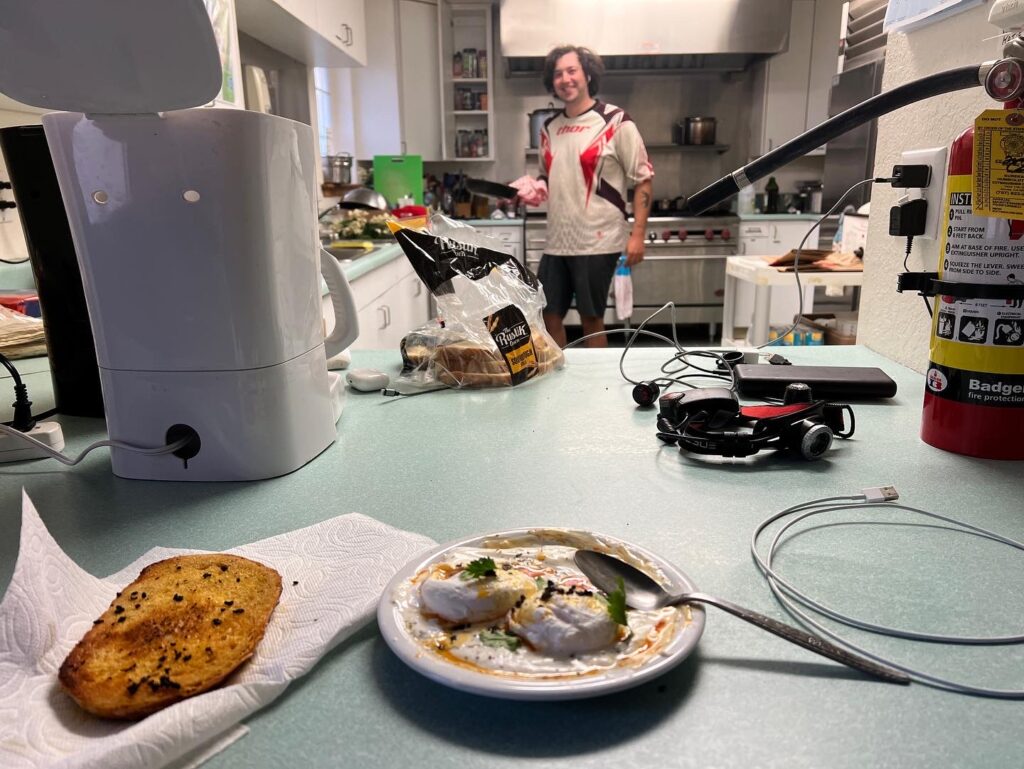 Did laundry, mailed off some extra cool weather gear and met Jeff at Seaquake Brewery where we shared his calamari and chatted about life.
Headed to Elk Prairie SP through another day of hard climbing. Hiker-biker sites in CA are only $5 (OR was $7-8). The redwoods were magnificent. Bunnies, elk and deer strolled around my camp. Was quiet and lovely on this traditional Yoruk land.
Rain came in force overnight. Everything was soaked. 20 days out and maybe have had five dry days. So tired of wet and cold! Might be time to head inland and get away from these storms?
May 1 trying to dry out in a motel. Again. Off to Ferndale, CA where I stayed at the county RV park run by Kai and had a long sit with Andy who lives in his RV and invited me over for a beer and sit in front of the woodstove he has outside. a very wise and gentle soul. He worked in the timber and farm worlds, had only one lung and vowed that the only way to be was to never let negativity into your life. I needed to hear that.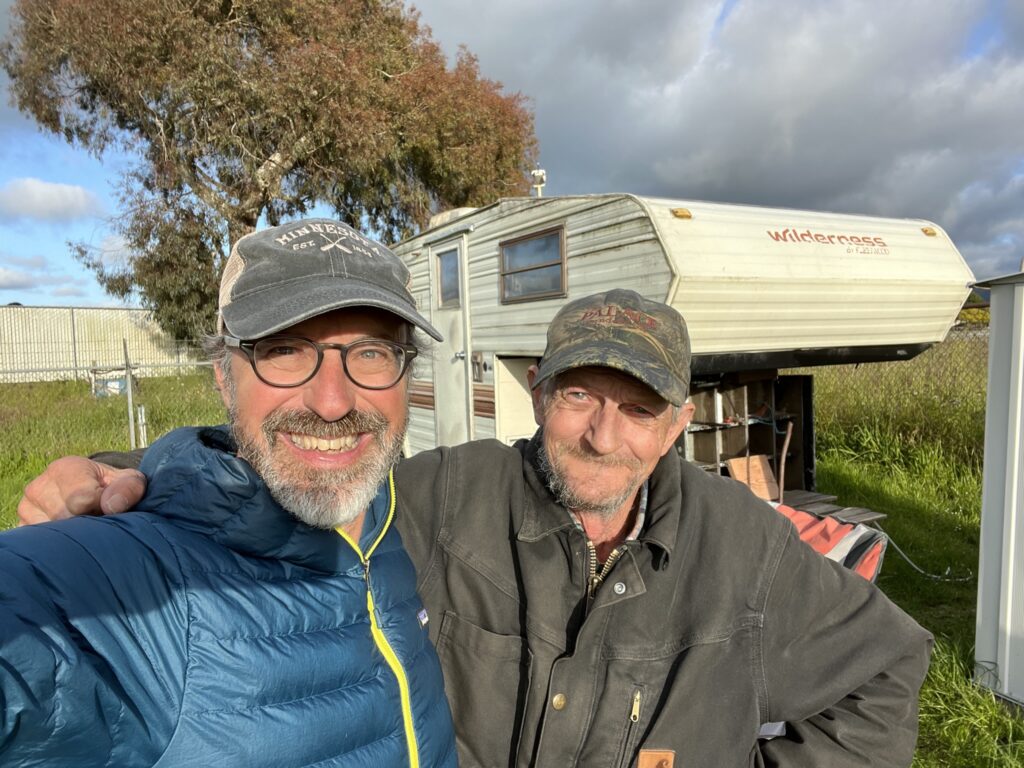 Next morning before heading out I had breakfast at Poppa Joe's. Best breakfast place EVER. Cash only. Went out to leave and met Shawn from Brisbane, AUS. He invited me in for coffee and we sat and talked while he had his breakfast. Quite a morning!
Both traveling south, we either rode together or camped in the same places for the next few days. He was such a good bloke! Rode Avenue of the Giants to Burlington SP and met Arnold from the Netherlands who was riding north on his recumbent from Mexico. He was having fender issues so I showed him my coroplast ones that would work well on his rack.
Rode to Standish-Hickey Rec Area and had a great campsite across the road from Pegs Grill & Store – a must stop place with beer on tap, a beautiful courtyard, fresh oysters and just about anything else you may ever need!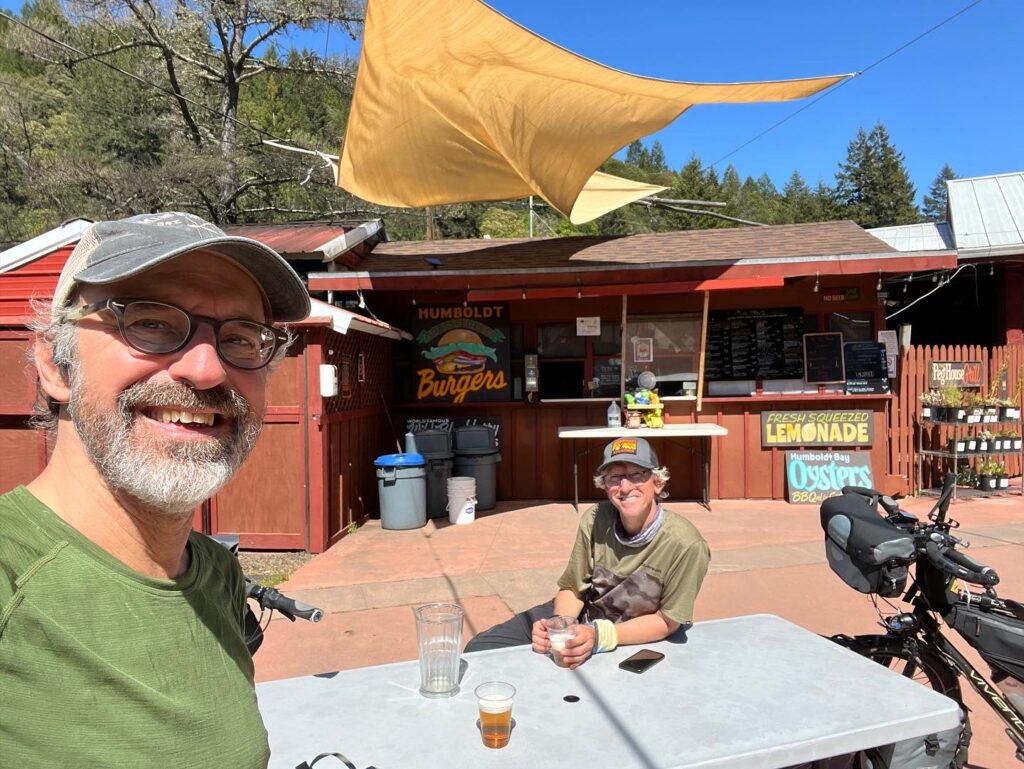 Had a dry night thankfully and rode to Fort Bragg after getting on Highway 1 near Legget. Long climbs, ripping descents and all nice and shady with little traffic. Stopped at the Westport Store for delicious sandwiches. Shawn was faster on the road and we were to meet at Russian Gulch SP near Mendocino. Nearing the camp I saw him coming the other direction. Seems he met some folks who invited him to stay at their place, nice! I carried on to camp and set up, meeting cool guy from Aspen who was doing day rides and exploring.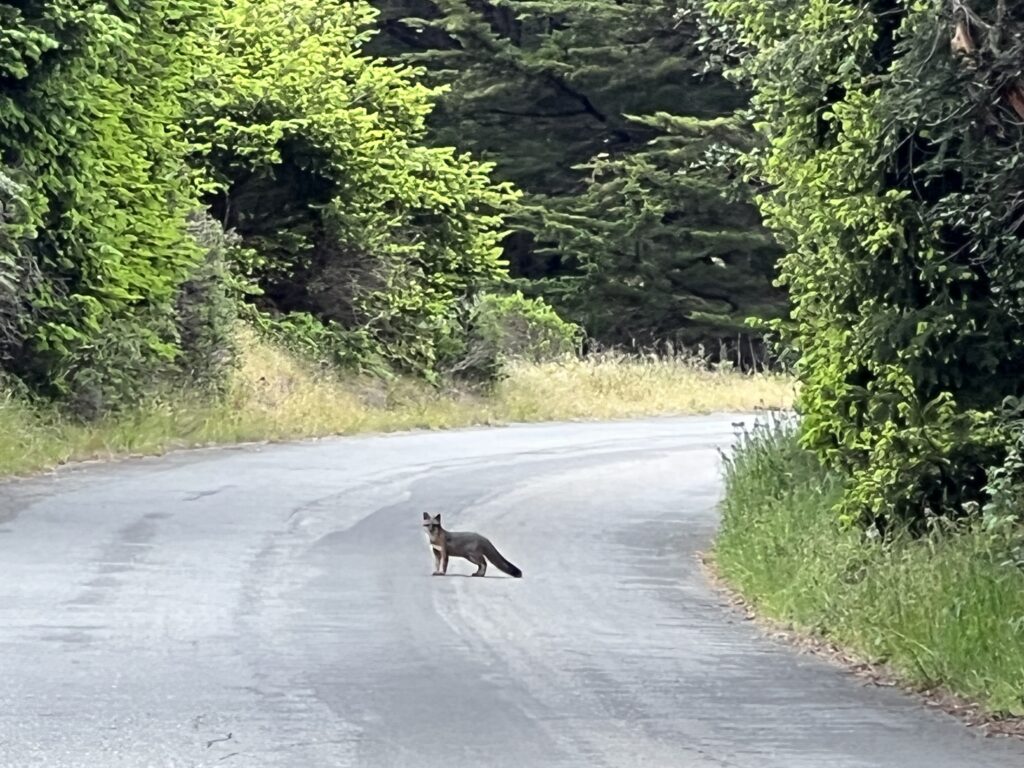 The night was another torrential rain, so hard that drops splashed mud up and under the fly a foot up the tent sides. It was a mess. In the morning I just shoved the whole muddy mess into a bag to just get out of there. My neighbor brought me coffee which was so appreciated! More climbing ensued right away, one with an inner curve at near 20%. Damn. After Port Arena the climbing increased high above the ocean. Beautiful, but the fog was so thick we could barely see anything.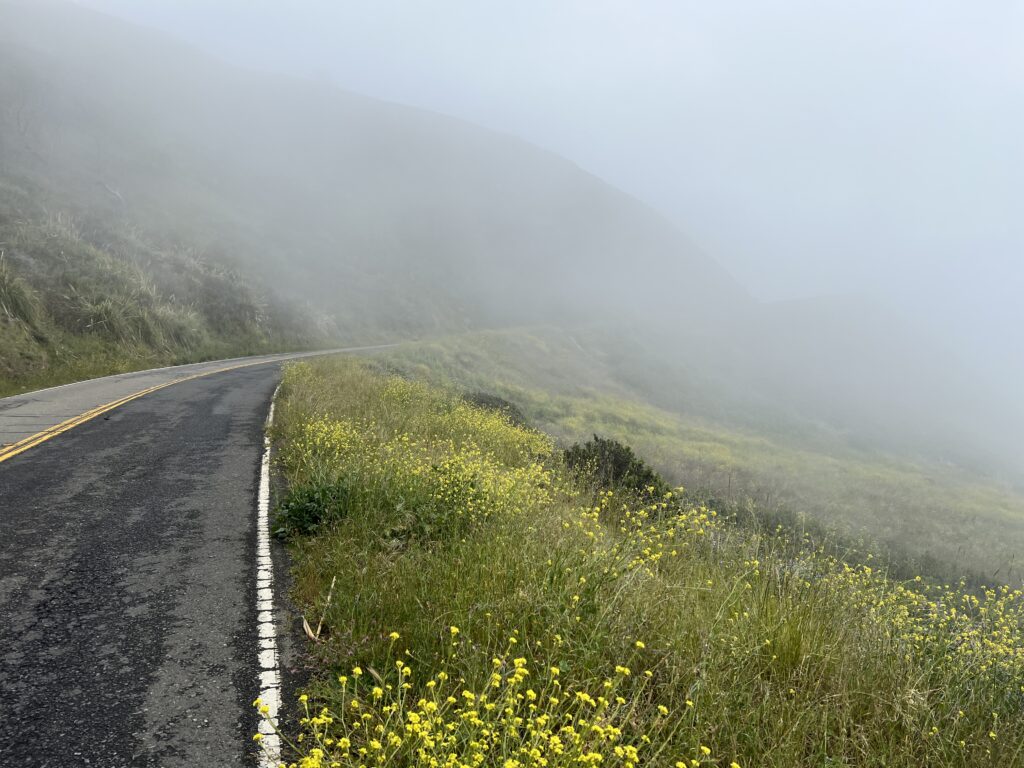 My tolerance for wet had come to an end. Opted to camp one more night on the coast with Shawn at Bodega Dunes SP. Grabbed some supplies at the Pelican Market and found a nice campsite in the woods. We ate, talked and drank wine.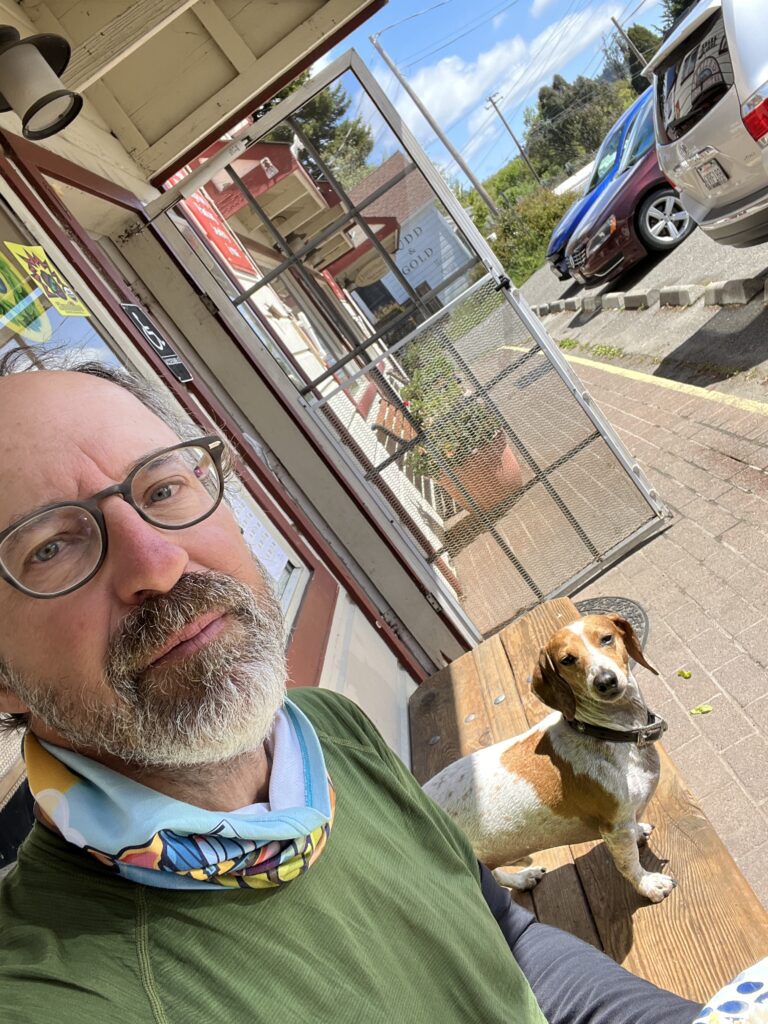 The next morning we said our goodbyes and he headed out. I tried drying out my gear and figuring out a route to Santa Rosa to stay with good friends, Tracy and Pete. Was not going to cross the Golden Gate or make it to San Diego this time, oh well.
Had a wonderful time with the Dellavalles, dinner first, then beers at the Trailhead Taproom and Bike Shop. Very cool. On Mothers Day we went out for a fantastic breakfast and they got me to the airport to rent a car and started driving to Tucson. So grateful for their hospitality and miss having them on the Olympic Peninsula!
Made it to Tucson by 9am Monday after navigating a sandstorm and high winds across eastern CA. This week is repacking and prepping for the next 300 mile leg to Hacita, NM and the start of the Great Divide. Leaving Monday May 16 before 6am.
Temperatures are already reaching over 100F here, so this next week or three will be the entire opposite extreme. Nice to take a break here in familiar territory!