Cycling the Pacific Coast, Port Angeles, WA to Bay City, OR. Snow, sleet, hail and rain. Brutal weather and slow progress. Will this winter ever end?
Left Port Angeles, WA on April 11, anxious to get moving south. Was very cold all day, but the sun was shining. Felt good to be rolling. First night was at Molly & Mark's property under their gazebo. Overnight temps dropped into the upper 20Fs and the rain and snow began which would persist for the next two days.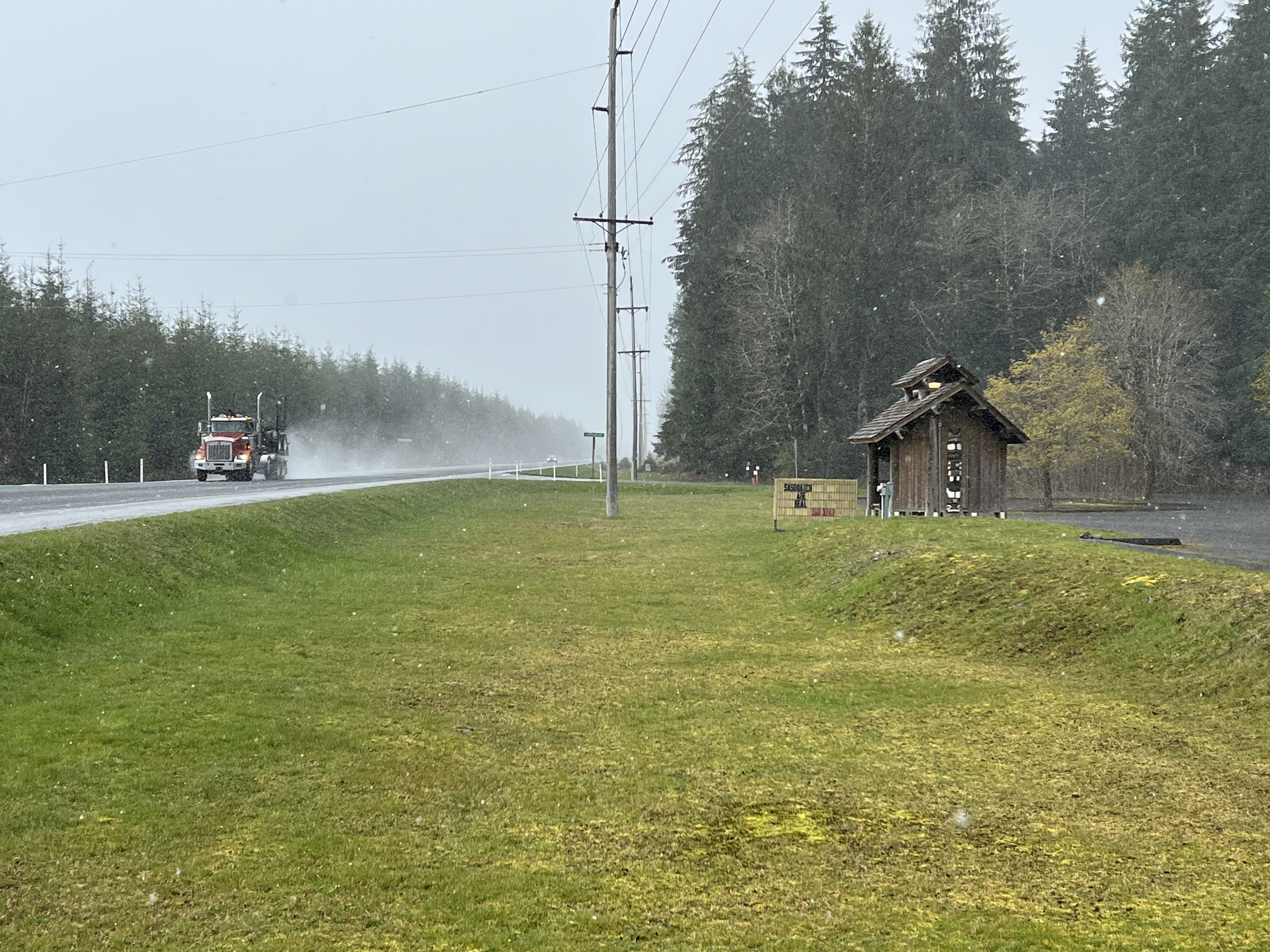 After the cold night I headed for Forks, hoping to get a campsite at Kalaloch. That was wishful thinking! Within 1/2 hour I was covered in wet snow, pelted by hail and drenched by cold rain. Stopped for a mocha to warm up to no avail. Across the street was the Forks Motel and thus ended day two before noon. Oh well.
Previously planning for a cold start I got another room the next night at Lake Quinault Inn as the campgrounds were seasonally closed plus camping while wet and freezing didn't sound all that appealing. Was pretty dry on April 14th and had a good ride to Aberdeen to spend the night with my very generous Warmshowers host Lauri. She had stayed with me previously and it was such a pleasure staying in her wonderful house.
Went downtown to Steam Donkey Brewery and met up with her friend Cari for delicious beers and spectacular eats from the Finch & Bull food truck. So yummy!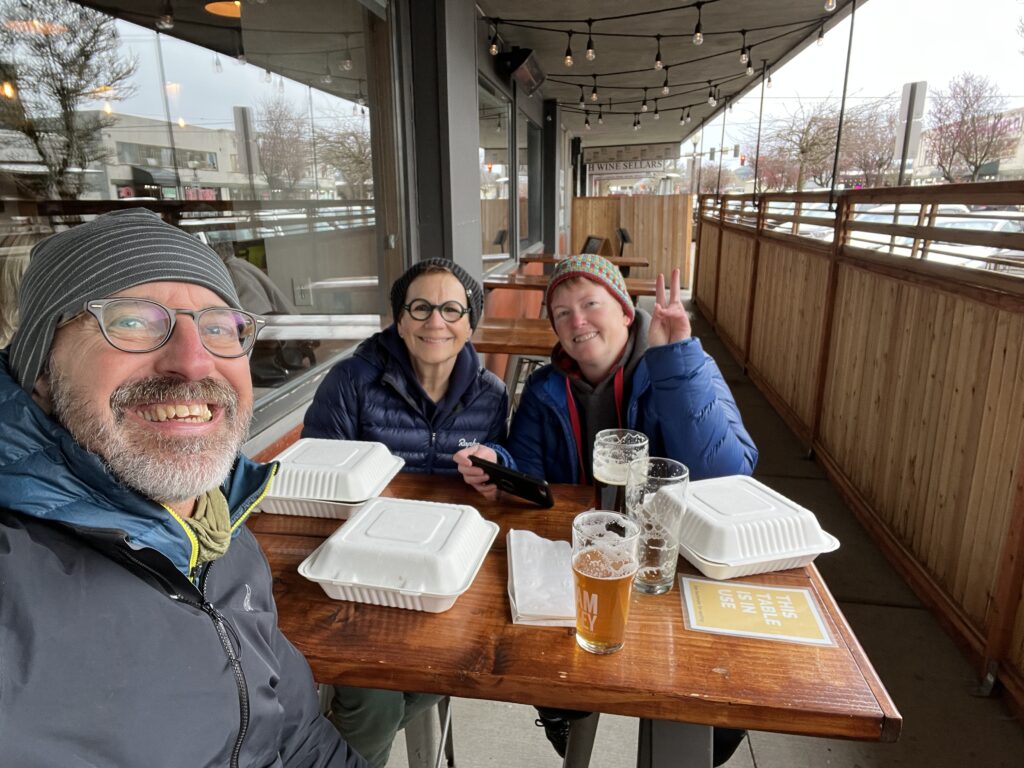 The next day we rode out of town and after meeting up with Cari in Arctic they went on a gravel road adventure and I continued south to Raymond, WA in the pouring rain. Thanks for the awesome stay Lauri!
By the time I got to Raymond and saw the Pitchwood Alehouse and Inn I knew there would be no more rain for me. Met some great locals and Noe touring south from Vancouver, BC. A nice guy bought us beers and told great stories, and the food was delicious.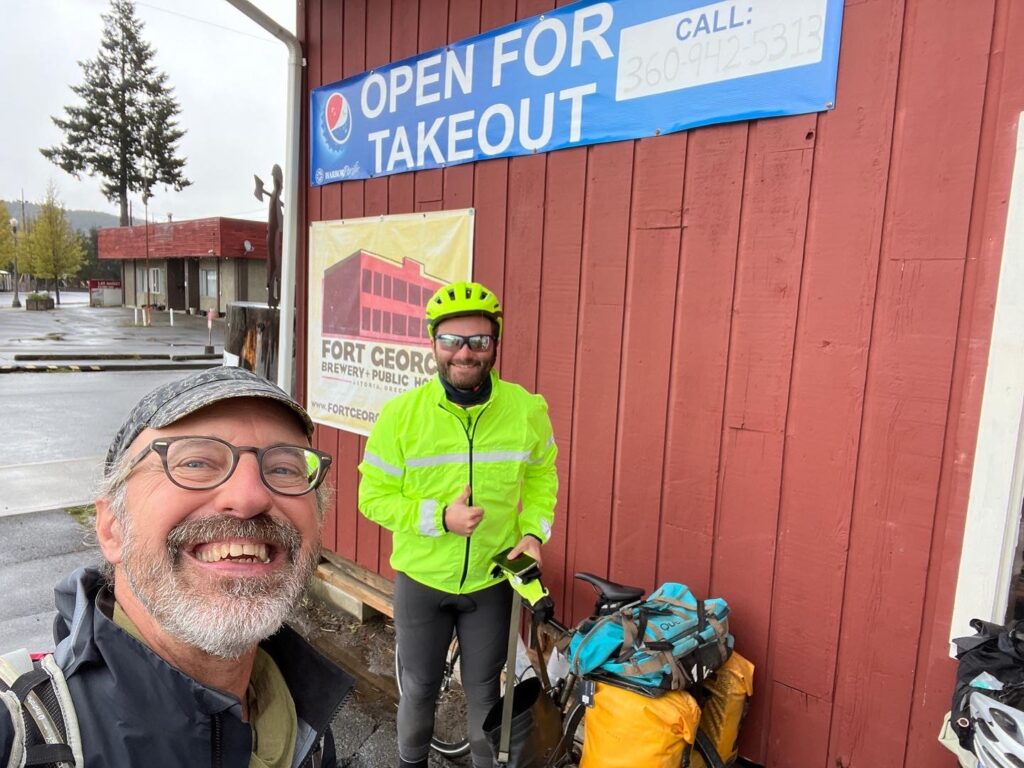 He opted to push on, bravo.
The 16th was sunny and cool as I made my way to Cape Disappointment to camp. Riding along Willapa Bay was dreamy. Made sure to stop at Jayden's German Store for some süppe and landjaeger. Shadowed areas were cool but the sun was a joy.
Stopped at the Ilwaco Market before heading into the park. Asked the owner if he'd watch my bike and he said sure and then went back inside. Failure to communicate? Took the long and hilly route in, which I figured out was unnecessary when leaving the next day. Rode an extra few miles trying to find the hiker-biker sites which turned out to be right near the entrance. Sheesh.
April 17th was windy but dry. Today was all about getting over the Astoria–Megler Bridge, a daunting 4-mile crossing of the Columbia River. Minimal shoulder, high speed traffic and cross winds made it treacherous.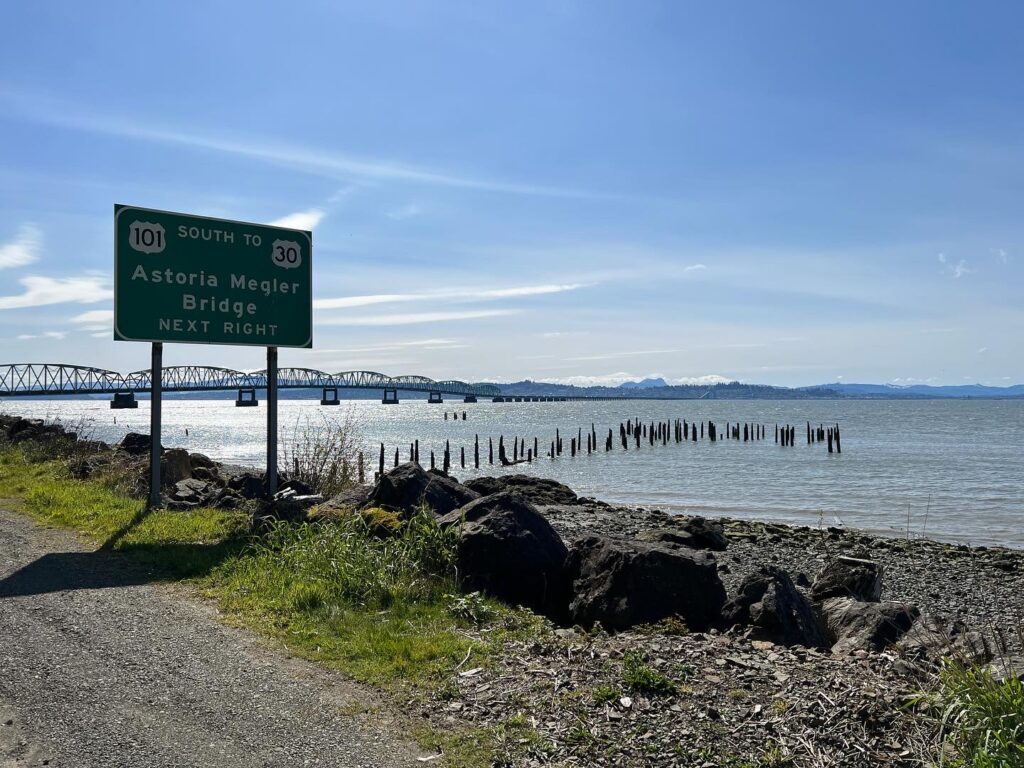 On the south end it climbs high above the river and after nearly getting side-swiped by over-sized RV trailers I made it across. It is not for the faint of heart. Glad to have that over.
After getting some good Hawaiian grub from a food truck in Astoria – including Spam musabi, I continued to Seaside where I'd take my first day off to do laundry and rest. Had torrential rain but not riding meant just walking a few miles. Chatted with a nice guy in the laundromat and covered all the topics in one hour. A perfect breakfast at my favorite place, the Osprey Cafe, was a nice treat. Repacked and checked everything on the Troll in an attempt to quell the shimmy over 20mph.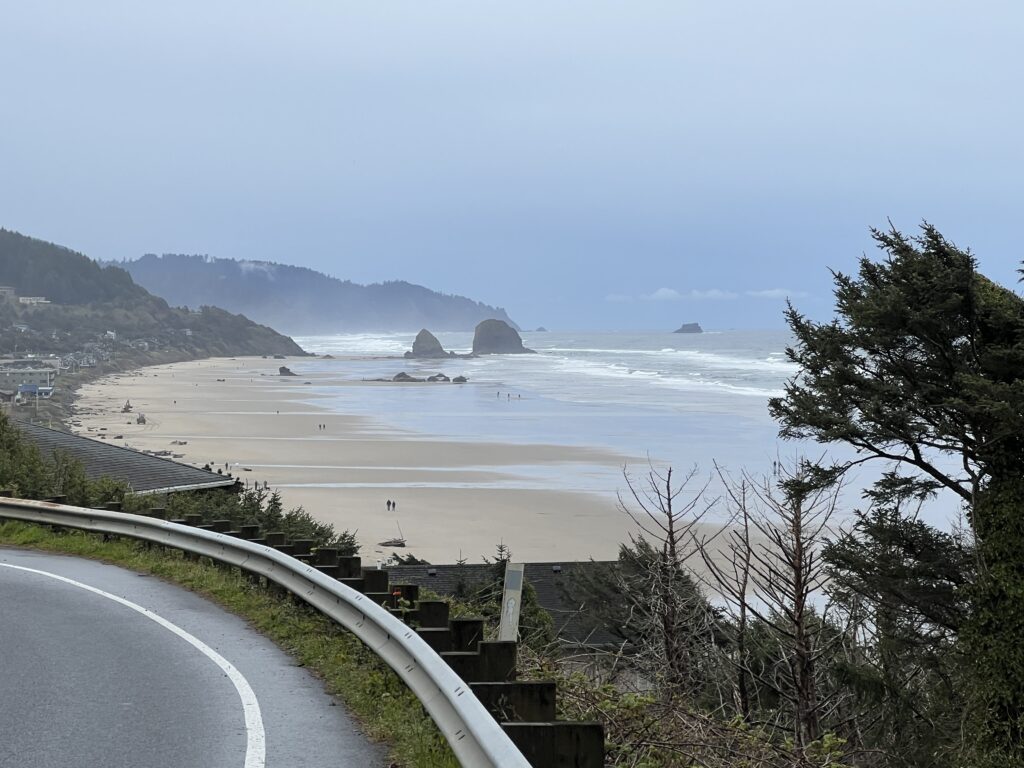 With yet another storm on the way I headed for Bay City OR north of Tillamook where I could get a yurt. The first 20 miles were hilly, including a long soul-sucking uphill tunnel – with no warning signal as power was out. Yikes. Made it halfway before traffic came but was grateful to the driver of a Jeep who put on his flashers and stayed behind me. Thank you!
Then the adventure began.
About a mile from Wheeler was a DOT sign saying "Road closed ahead, follow detour". Checked maps and news to see a landslide was being worked on till 7pm. It was 1pm and the detour was over 20 hilly, dangerous miles. No way. Went to the first open store and asked for options. They suggested riding the couple miles to the flagger to see if they'd let me through, if not, go down to the old rail tracks and try walking around the slide.
Flagger emphatically said no way…so RR tracks it was.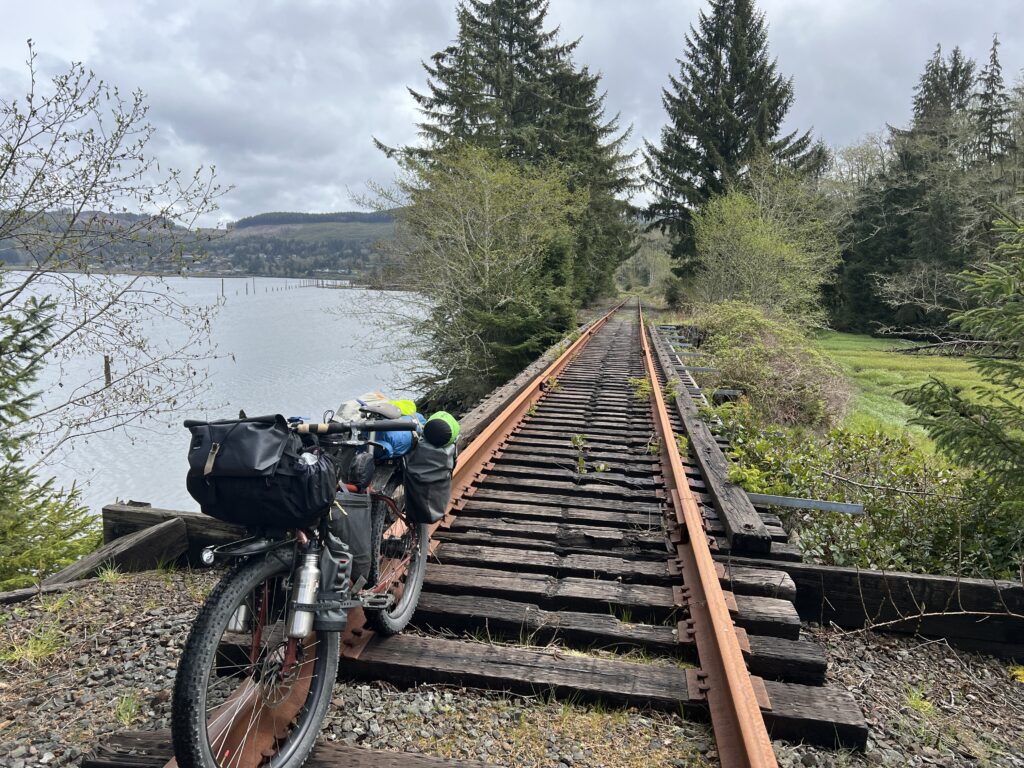 After about 1-1/2mi I came upon a track work crew from the OR Scenic RR and they wouldn't let me go further. With limited options I hopped back on the closed road to another flagger, but right there was Kelly's Marina so stopped in to see if they knew anything about the slide.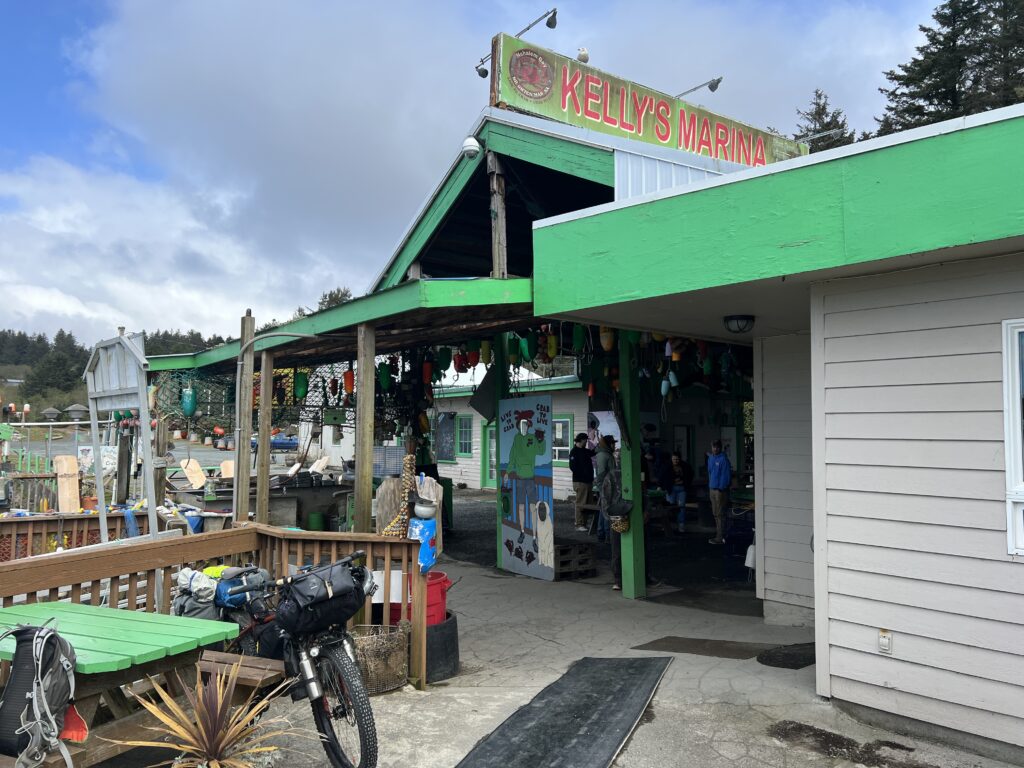 Was joking with the owner about renting a boat and he said "we can ferry you to the other side for $25". Sold! We loaded the Troll and ten minutes later I was on the open road!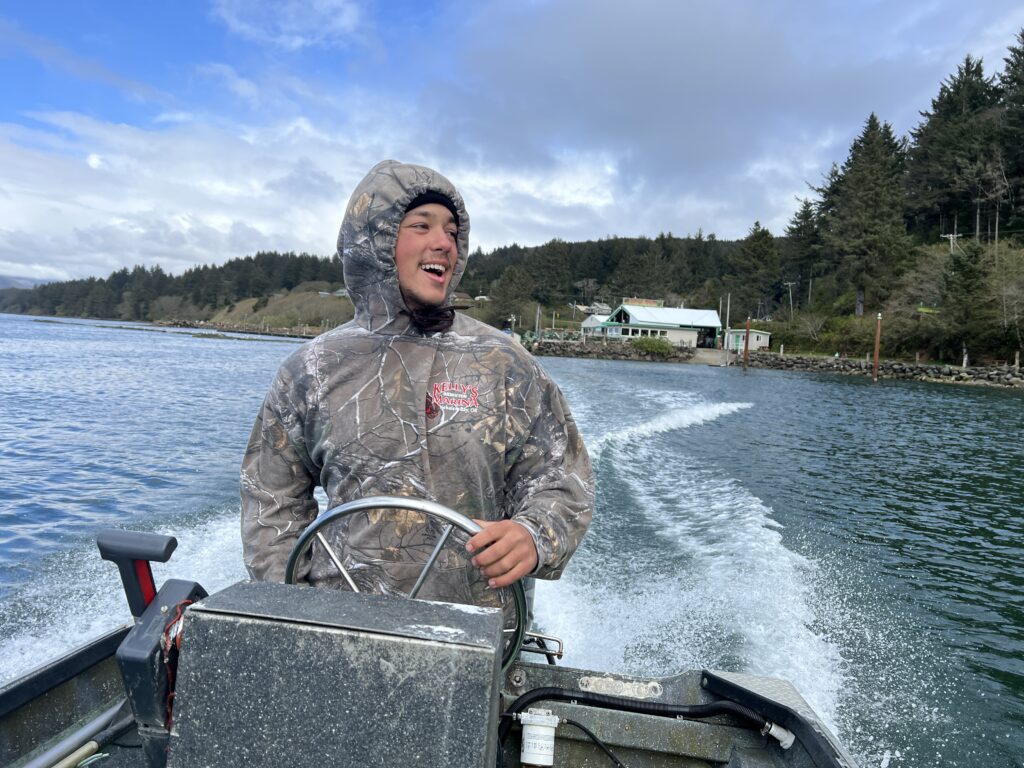 What an amazing day. Got to the yurt by 4pm and all was good.
Except for the new storm with south winds gusting to 30mph, rain with possible hail and a chance of a tornado!
Will the winter ever end??