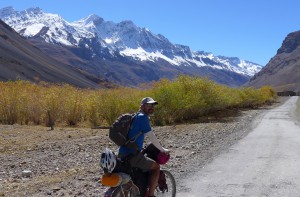 Actually I'm just a regular guy who likes to be outside, traveling, exploring new places and sometimes finding a nice pub.
I've been a ski, sailboat and bike bum and mostly self-employed so I don't have to follow other peoples schedules. Born in Minnesota, I've lived a bit in Whitefish, Montana; Crested Butte and Frisco, Colorado; Olympia (Capitol Forest), WA; Port Townsend and Port Angeles, Washington; Allenc, France and in my truck. I love movement and become exceedingly depressed when that's not happening. Traveling for over 4-6 months a year is not enough anymore.
I love cycling, skiing, backpacking & hiking and kayaking. I am not an "athlete" – I just do things that make me happy.
"It is not the actual physical exertion that counts towards one's progress, nor the nature of the task, but the spirit of faith with which it is undertaken." – St. Francis Xavier
We'll see what happens next…