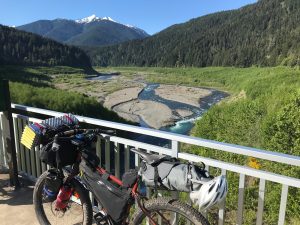 Trip Ideas
2022: Patagonia, AZ Gravel Tour. Sky Odyssey Loops. Great Pacific Divide Loop.
2023: Western Wildlands Route; Baja Divide
2024+: Southeast Asia; European Divide; Pamir Highway/Tajikistan/Central Asia; Australia's west coast; Trekking in the Indian Himalayas
Current Bikes
2017 Surly Troll, Rohloff/Schmidt hubs, Avid/Yokozona brakes. 26×3″ Surly Knard tires, Jones bars, bikepacking bags and racks.
2019 Salsa Titanium Timberjack, DT350 hubs, XTR brakes/shifters/drivetrain, Koga Denham bars. Whiskey 9 carbon fork. 29×2.35″ Schwalbe Hans Dampf tires and bikepacking bags.
1990 REI Ponderosa with S&S couplings, 10sp thumbshifters, 26×2 Scwalbe Mondials, White Industries/Schmidt hubs, canti brakes, Jones bars and bikepacking bags.
Stuff
Gear: After decades of touring, backpacking and travel I have enough stuff.
Training: Touring regularly is the preferred method.
A few things to improve: GPS/photo skills.
That's the current state of things so far…