The Tour Aotearoa route, designed by Jonathan Kennett, a New Zealand cycling guidebook writer. In 2016 he organized a brevet to highlight the best New Zealand Cycle Trail Great Rides, Heartland Rides, and quiet back country roads. This was my opportunity to do it!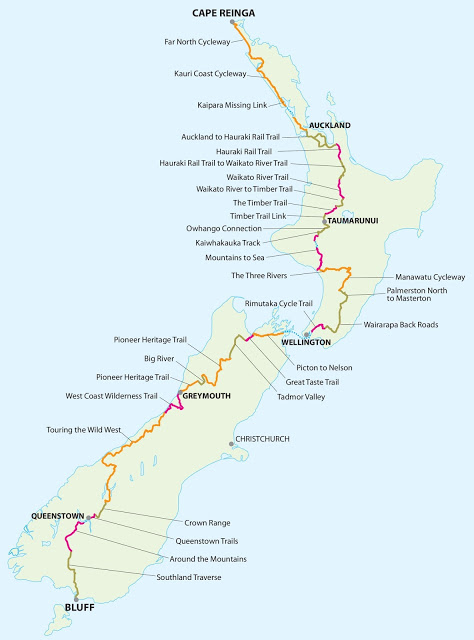 Finale: Completed six plus weeks of riding in New Zealand! Ended up not following the entire route for a variety of reasons, and also added some areas. Main takeaways were hills, heat and headwinds. Met incredible people and saw some wonderful places plus, rode a whole mish-mash of roads, trails and paths. Would like to explore more there, but off the roads!
From Australia to New Zealand
9-12 February. After a wonderful 10 days with my daughter Peri and friends Colin & Marie in Cairns, I flew to Auckland with my bike box and prepared to make my way north. Checked into the Surf and Snow Backpacker Hotel downtown and got my Vodafone SIM card and fuel canister, along with some sightseeing in the city. Three days of city life was fun, but enough, and I was anxious to get rolling!
12-14 February. Buses to Kaitaia depart from Auckland's Sky City Bus Terminal and the whole process was pretty easy. Change busses in Kerikeri and connection to Kaitai. Arrived in Kaitaia early afternoon and got a room at the Orana Motor Inn & Restaurant.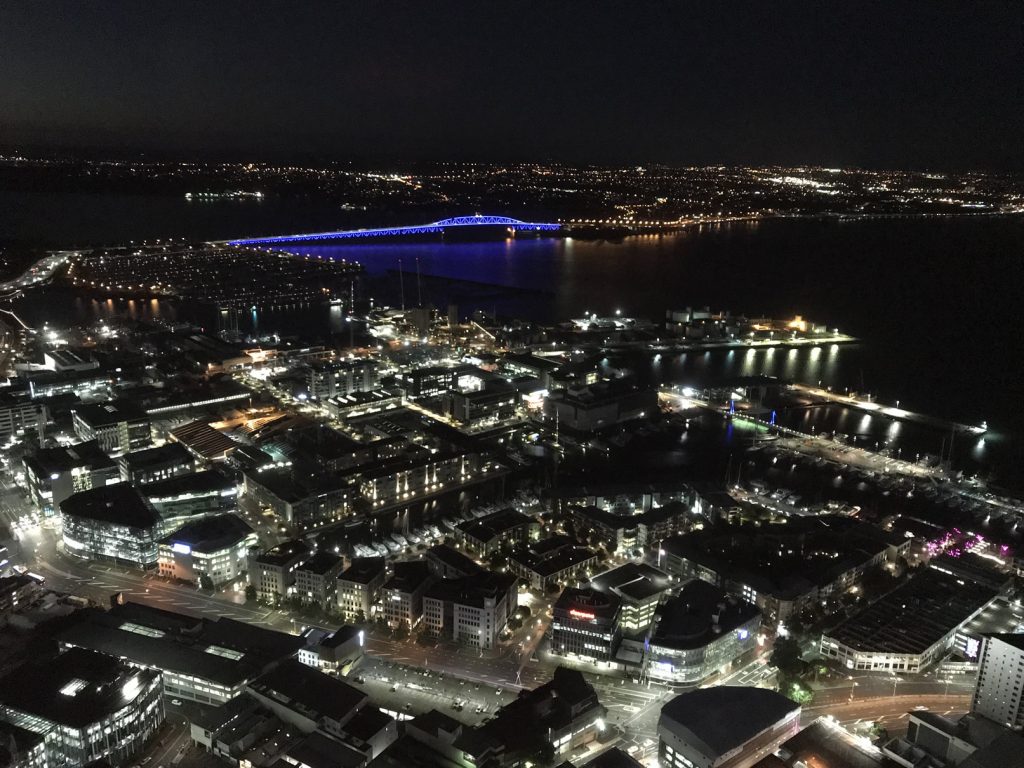 For the next two days I built Khojana and packed bags, ate food and found two new friends in Simon and Goran who would be amusing companions off and on for the rest of the tour! Mailed my bike box with assorted clothing to a Warmshowers host in Invercargill. Got a haircut and beard trim from a fabulous woman in a very cool rock and roll barbershop. Anxious, but ready.
14 February. Took Johanna's Far North Shuttle to Tapotupoto Camp. Shuttle cost us $80 to the campsite. Simon, Goran and I pitched tents in the fierce winds and got some dinner down and early to bed.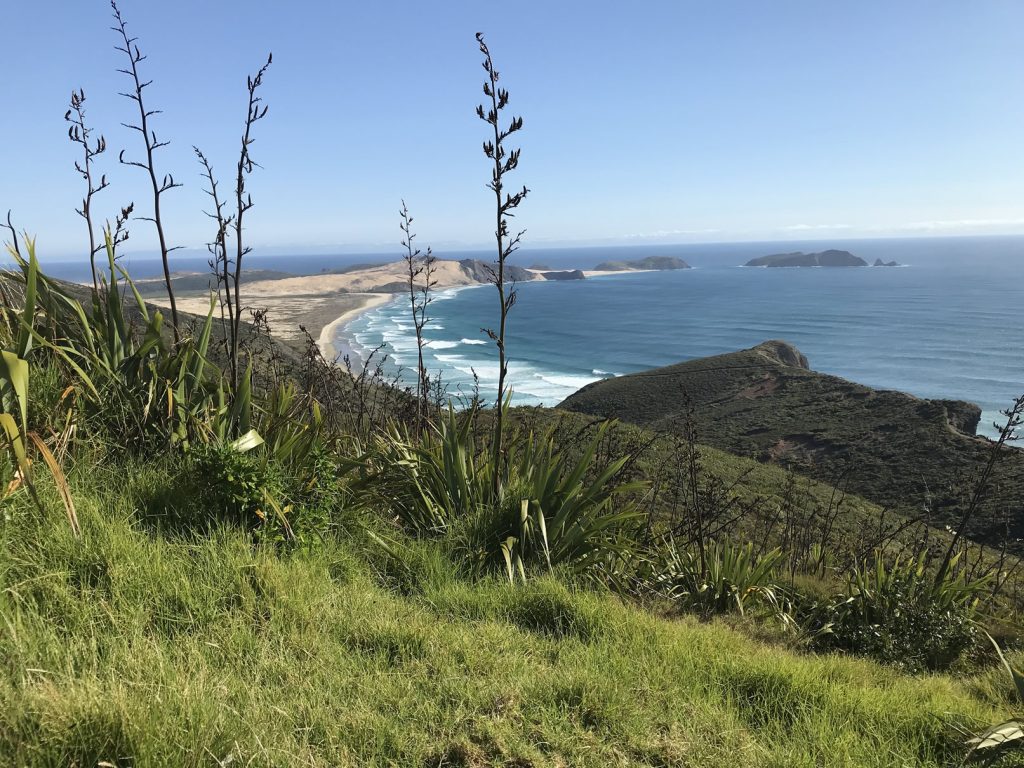 15 February. The wind howled all night, and combined with anxious jitters I was happy to awake early and start riding. It was 5km to Cape Reinga Lighthouse (with 3km straight up a steep gravel road from the camp(!), then 23km to 90 Mile Beach and another 80km to Ahipara. Sunrise was at 06:52, sunset 20:17 (13.5 hours of daylight). This turned out to be a most brutal day…It was still windy, very warm and once photos were taken at the lighthouse I departed with a large group of NZ riders led by the charming Hillary, who I'd see off and on over the week.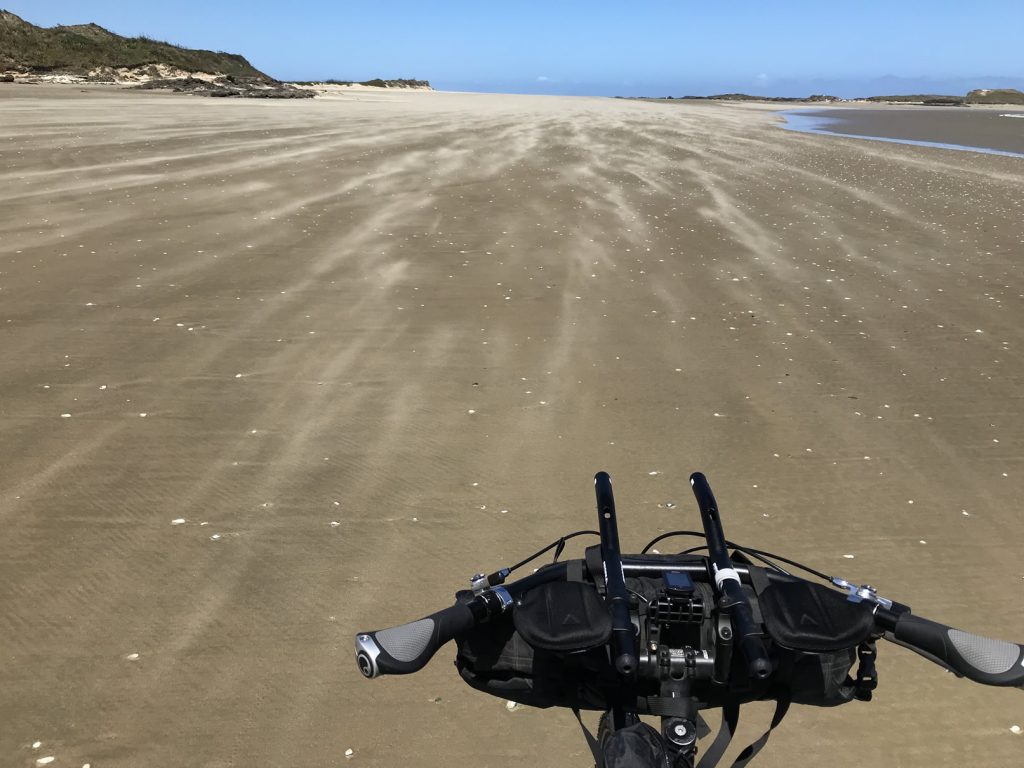 The road to the beach was paved, but hilly and was so happy to have a 3×10 range, I used all of it. Got to the beach entrance "road" (mainly a creek and sand path) and had a snack. By the time I reached the shore the headwind was between 20 and 30 knots – so demoralizing! Knowing I had 80km to ride felt daunting, but started hoping it would ease up. That was delusional. Taking breaks was difficult – couldn't sit down as blowing sand would fill every pore. Was already worried the pace was too slow to make Ahipara and would run out of water long before that. Think I averaged about 4-5km an hour. Ugh.
Hillary and crew, along with many folks were flagging down rides from fishermen and beach-goers along the beach. Came upon Simon and we walked and rode for over an hour, lamenting the soul-crushing start to this amazing route! We finally bailed when we ran into Matt the fisherman and his cattle dog named Husky. Secured our bikes to the hood of his van along with a woman who also needed rescue. Quite the motley crew all crammed into that tiny van. The poor dog was a bit confused.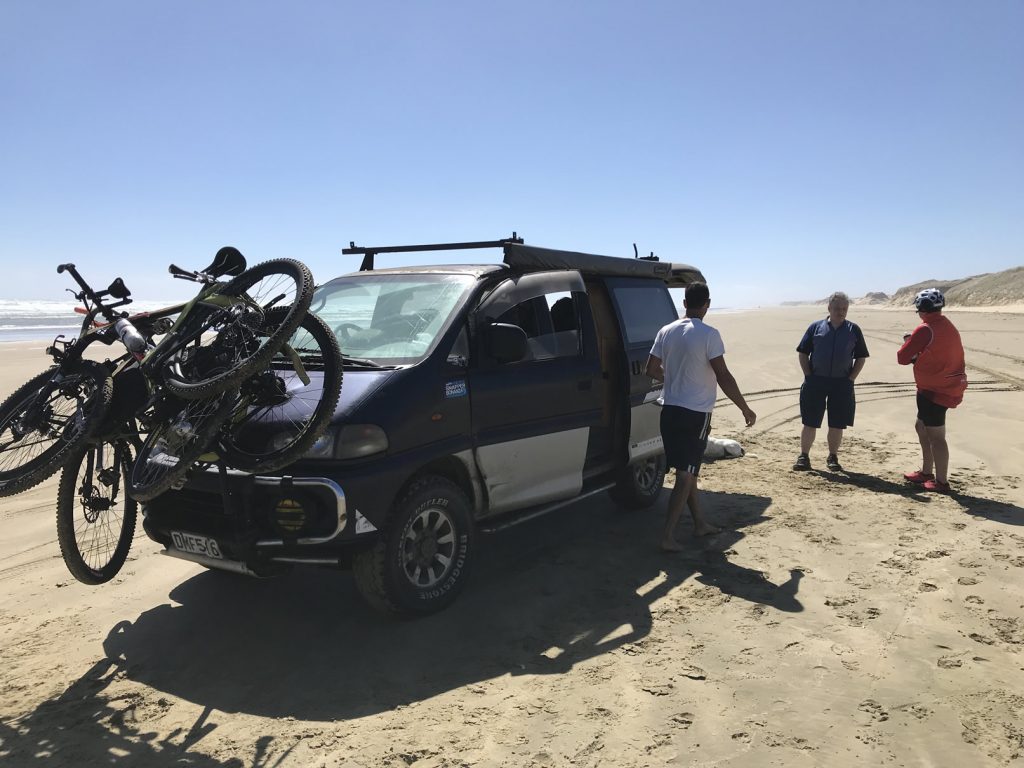 After a couple hours of slow sand driving we arrived in Ahipara and got a campsite at the Holiday Park. The shower felt wonderful and I met Phil from NZ, and a group of us headed out for dinner and beers. Everyone had a beach story and it sounded like only a handful of people actually rode the entire way. Quitting on day one weighed heavily on me and I spent the next few weeks battling doubt and re-imagining goals.
16 February. After a good night's sleep it was onto Opononi, after attempting to clean the chain and derailleur of all the accumulated sand. Simon and I rode together while Goran and the rest moved ahead at a faster pace. The sealed road became gravel and was constant wind, heat and hills till we got to the ferry dock in Kohukohu to catch a boat to Rawene. The main ferry was out of service, so we were lucky that Goran met a guy willing to take us across. We camped at Opononi Beach Holiday Park in the grass while goats roamed around keeping the vegetation down.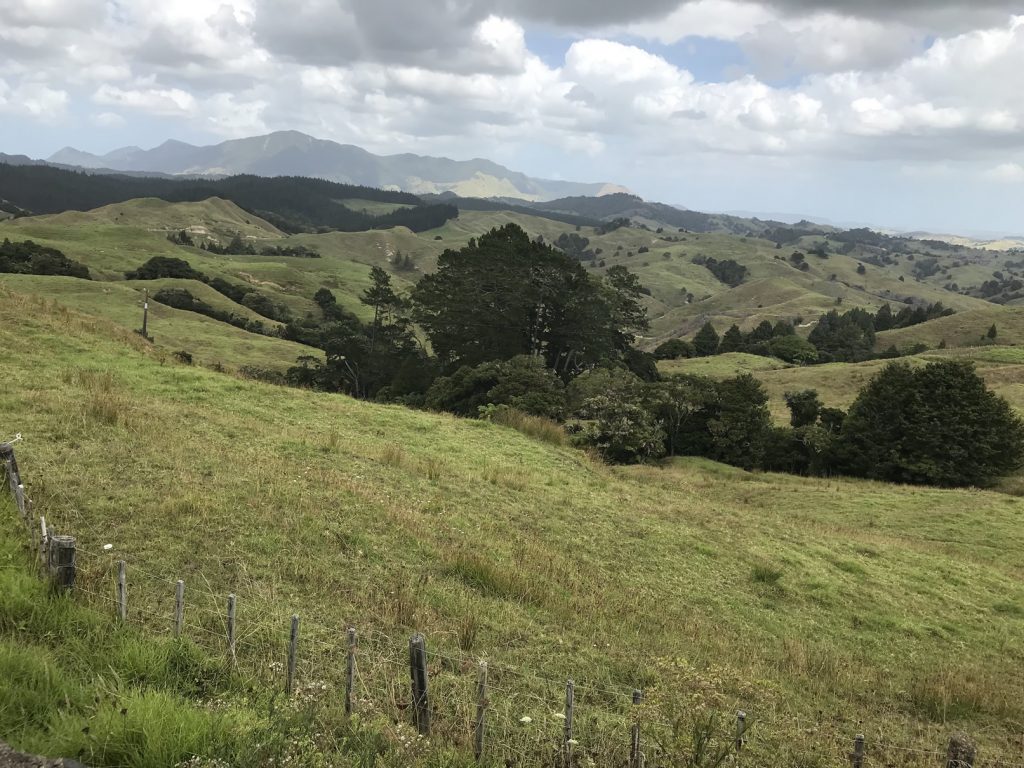 17 February. We happened upon a great cafe in Waimamaku that wasn't open, but the woman made us lattes anyway after her husband called from the store and asked! Lovely hospitality.
Today the route entered the beautiful Waipoua Forest of kauri trees and I got to see one of the largest, the Lord of the Forest, Tane Mahuta. It was magnificent, silent and powerful, so full of wisdom, and though it's age is unknown it's estimated between 1,250 and 2,500 years. The remainder of the day was back to gravel, hills and oppressive heat, though on one of our many breaks we got to see some huge black swans. We finally made it to Dargaville, just in time to get chain lube and a bottom bracket tightening. Donna at the Camper Caravan Park gave me a discount on a cabin, which was very welcome. Had crumbed Dory (fish) and a couple Steinlagers at Jo's Cafe, very yummy.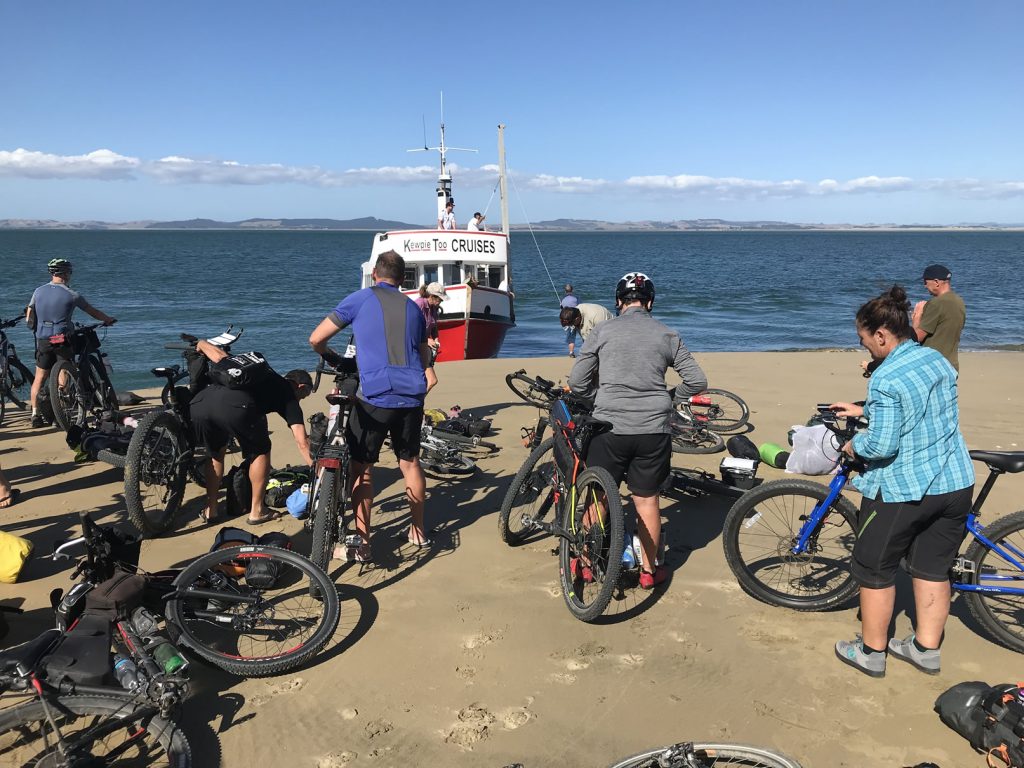 18 February. This was the critical day to make the ferry at Pouto Point by 5pm. The last four days were all predicated on this deadline – miss it and it could be days before you could book another ferry, or a long ride around. Began riding in cool fog and stopped at Ernie's Garden to explore this little eclectic space with the smallest church in NZ.
The day was enjoyable and we arrived at Pouto Point early, so time to wade in the water, swim and snack. Within two hours there were nearly 50+ riders assembled and I wondered how the boat would handle them all. When the boat arrived it simply drove bow first into the sand and a side ramp was lowered and secured. Everyone took off bags and we had a long line of folks handing bikes along to be hoisted to the upper deck and stacked. It was quite a sight! The trip was over three hours long, with time to chat with Phil, Greg & Brittany, the captain, Simon and Goran. In the distant hills were huge sculptures some millionaire made on his private property and in the water were massive buoys from the 1930s when Karipara Harbor was an emergency landing site for massive float planes.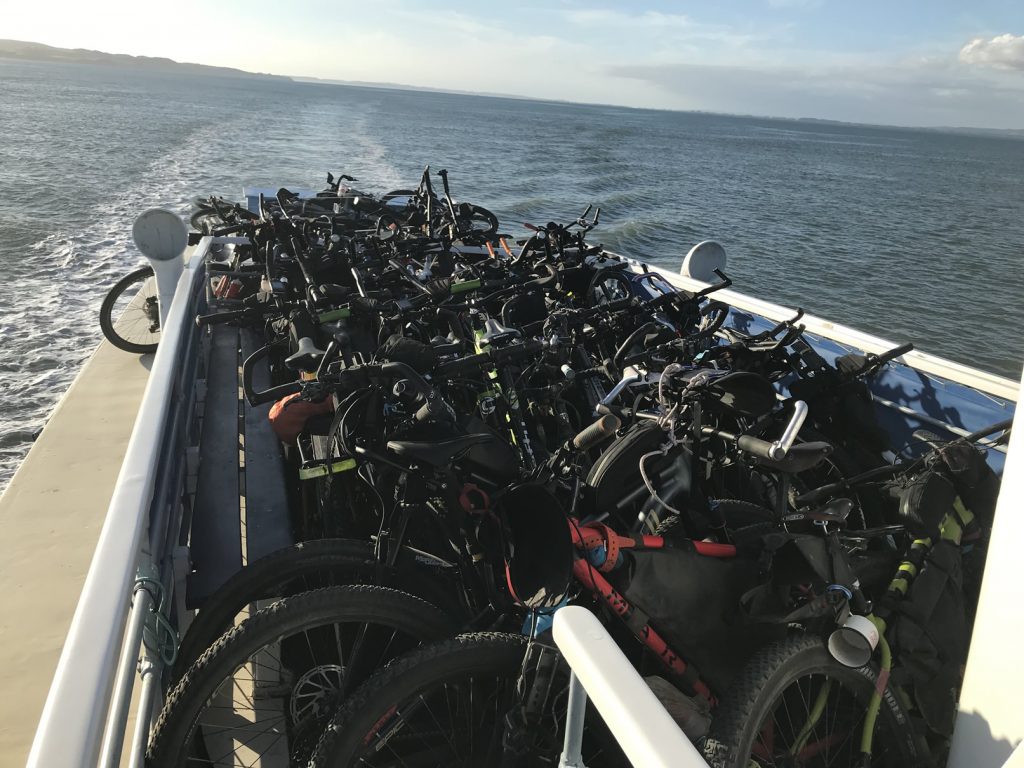 My bike was the last one off the boat, so it was dark by the time I got into town for fish and chips dinner and finally pitched my tent at the Karipara Cruising Club in Helensville, which was gracious enough to open it's facilities to us all for $10 each. I fell asleep listening to seabirds and trains, happy that I no longer had a schedule to follow.
19 February. Slow start this morning, lots of tea and immediately went the wrong way for a few kms. Once that was sorted I rode alone, up brutal 16% grades in increasing heat and by this time my ass hurt. The goal was the Mt Eden Cycle Shop, but as I got closer to Auckland the bike routes became a little confusing. Came upon a downed rider, Irene who I'd met before. She was well-attended to and so I continued on. Rode a bit with a couple I knew from the ferry as we entered the big city. Found the shop, got brakes sorted, new larger shoes (my feet were always swelling in the heat), a new pair of shorts, and grabbed a snack at Cafe Mott before finding my place for the night, the Mt Eden Art Homestay.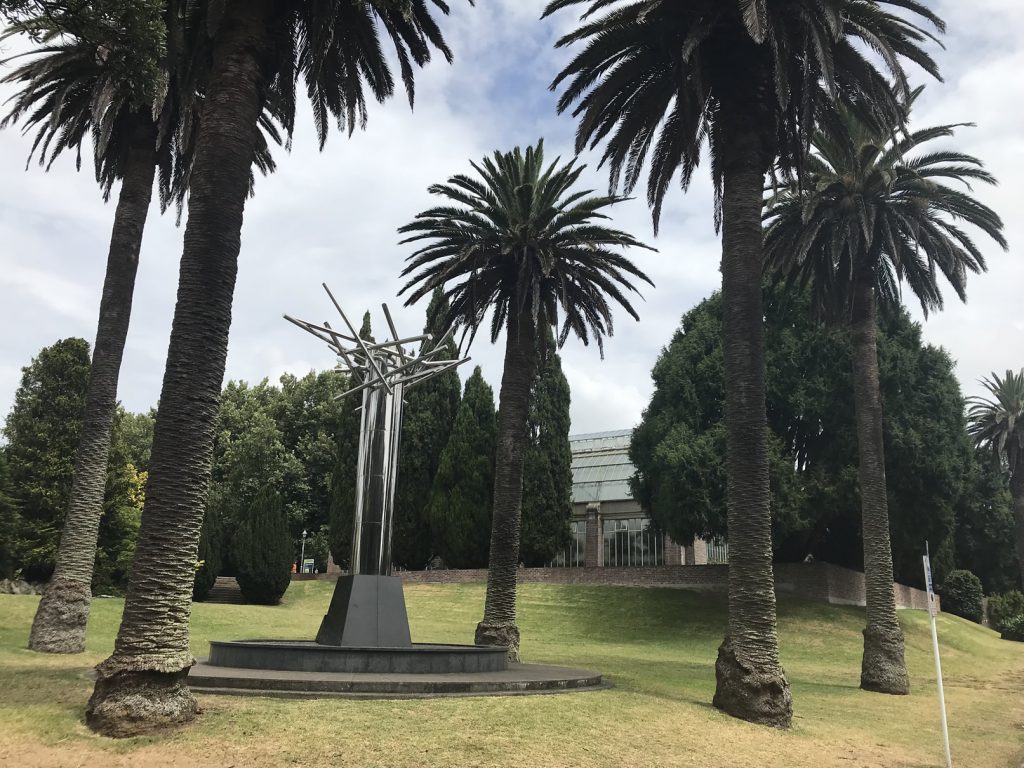 20 February. Decided to take a rest day here and made arrangements to camp with a nearby Warmshowers host, Lewis, who was American, but works in sustainable transportation in Auckland. Made my way to the Mt Eden Summit for expansive views of the city and all the volcanic cones. Did some shopping and lunch at Teed St Larder. Pitched my tent in the yard and later we walked to have dumplings and then sat on the porch talking till 10pm. Very lovely.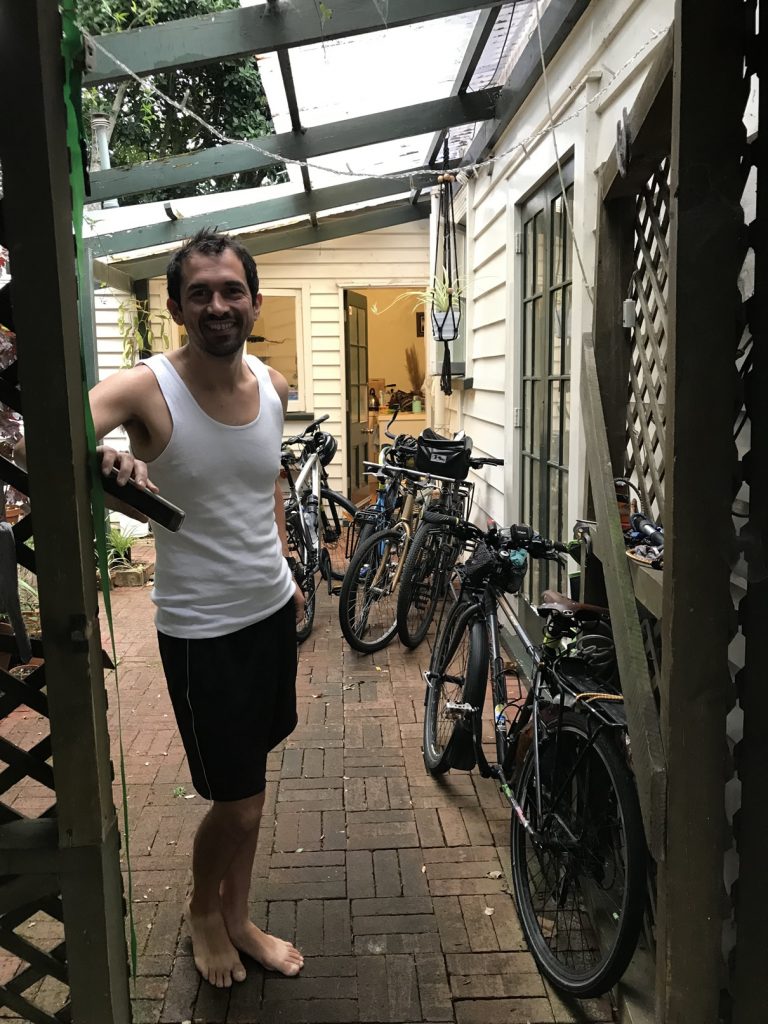 21-22 February. Opted to avoid the big city traffic, so took a train from Remus Station to Parakuru. A nice bloke and long-time cyclist on his way to his electronics store gave me all the info about putting my bike in the center car (with the bike symbol) and we chatted the whole time. Finally found the correct route from the station to the Coast Trail…which was closed, but roads were quiet and found a great little store in Hunua with fantastic food. Made it to Miranda Hot Springs Holiday Park – welcomed with whistling and cheers from Simon and Goran! We got fish and chips and they had a cabin with lots of treats and wine. Had long talks about Euro history, politics, Simon's Estonian stamp collection and Goran's father who flew bombers in WW2. Retired to my tent for a nice sleep.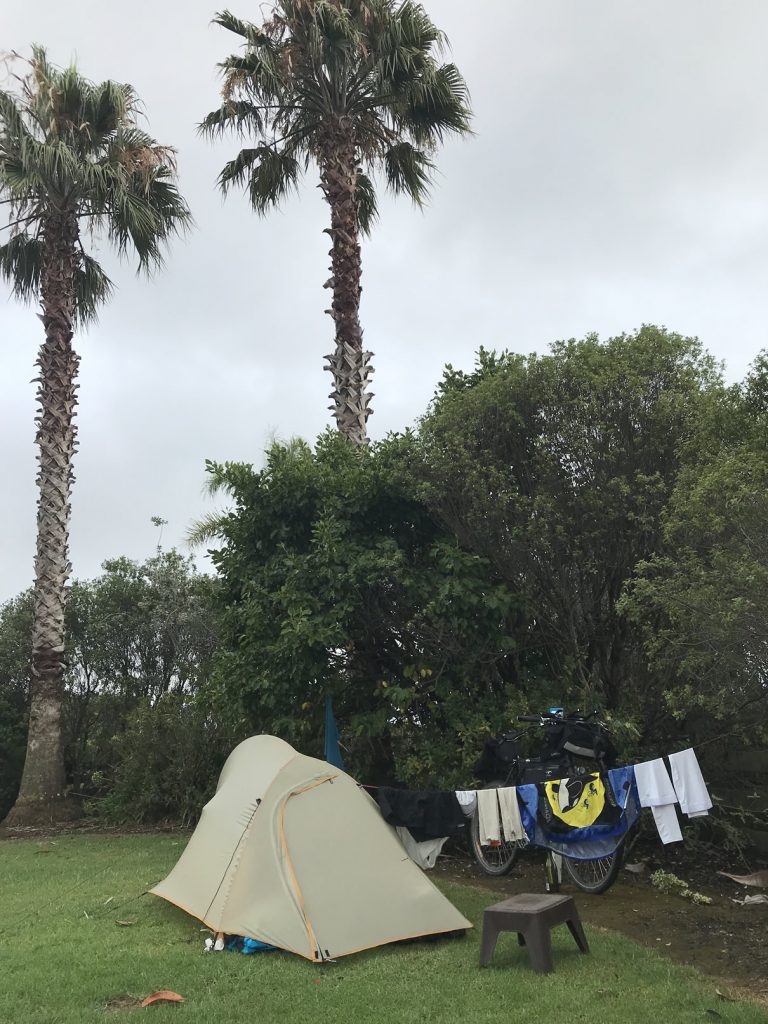 As Miranda is a hot springs, I decided to stay an extra day, sit in the pools and sort out my kit and plan. The boys headed south and I met Simon of Two Wheel Travels from Cromwell, UK on his bike tour of the north island. He leads motorcycle tours in India! Great guy. Someways wish I had a bigger tent, the little UL1 is cramped.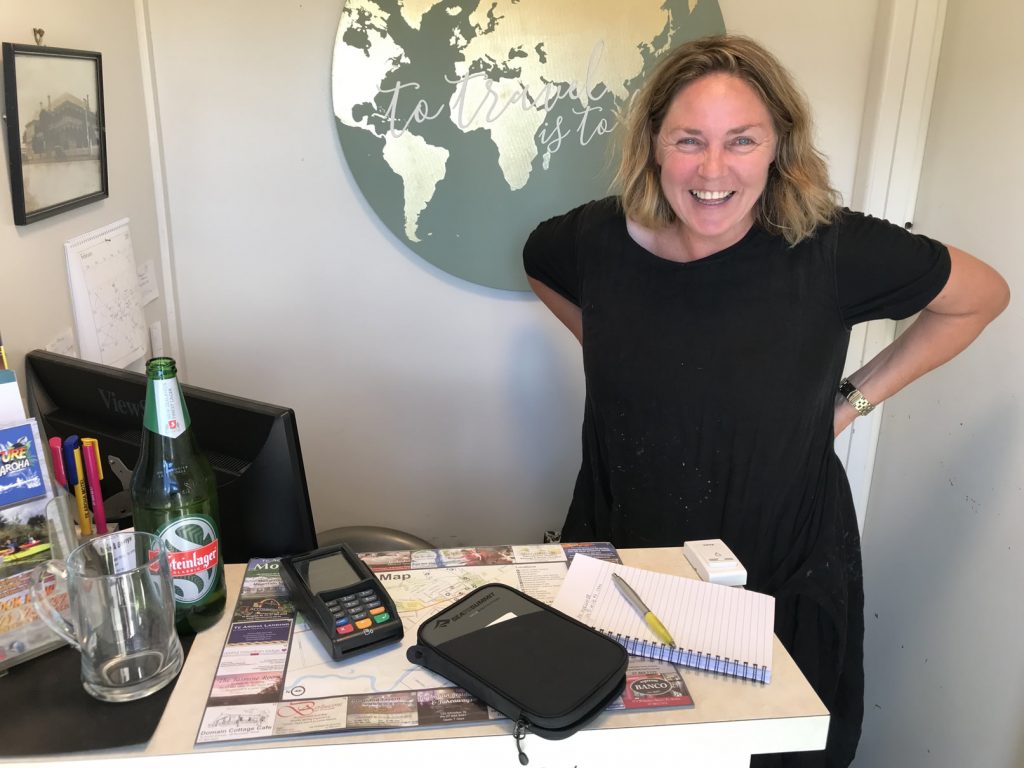 23 February. Packed and dry, clean, rested and fed. Today's goal was Te Aroha and had a great ride along the Hauraki Rail Trail around the Firth of Thames. In Hikutaia I stopped at the Convenient Cow for a delicious burger and fries. The trail continued all the way into town. Made a wise choice to stay at the Te Aroha Motel and owner Glenys gave me a huge Steinlager when I checked in! Wonderful place and one I will definitely return to. Ate and drank at Austins Pub and got into a lively conversation with the local crew, so enjoyable. One even knew a friend of mine back in the US…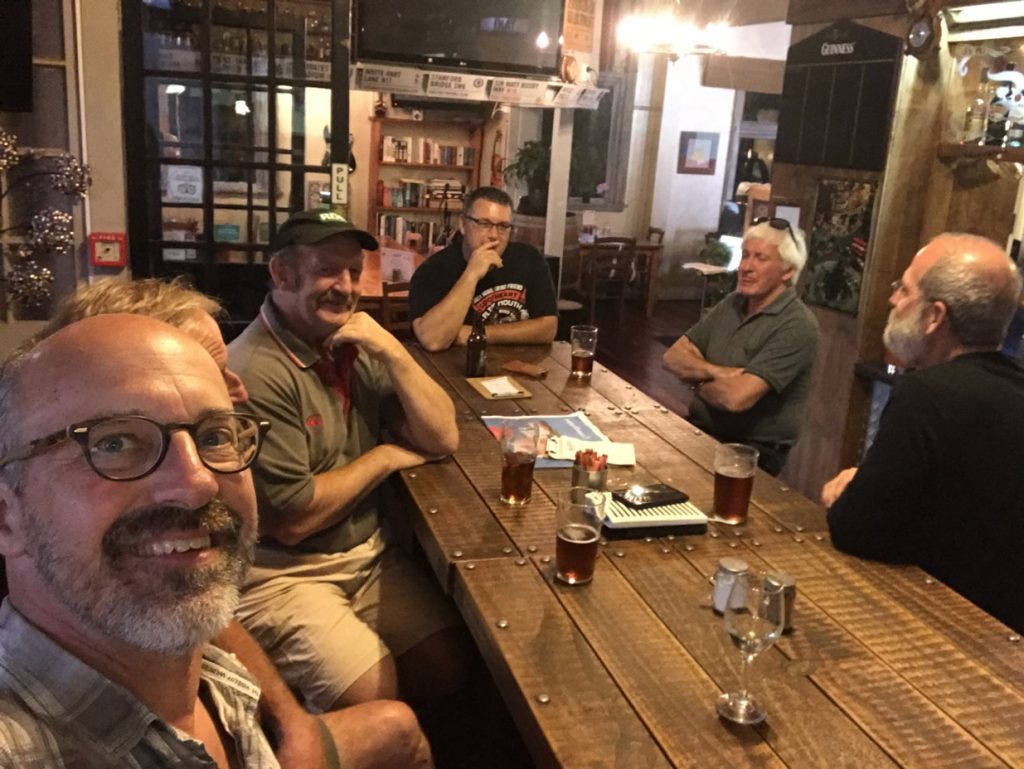 24 February. Rain…slept another two hours and it stopped, so time to head out. Met Katarina in her hot pink kit and we'd see each other a few more times. The trail was soft gravel, so stuck to the road and had a tailwind for 20km. Stopped at the Bugger Cafe for a flat white which took forever to get, but they had wifi. Took the trail past Pipiroa and then met up with UK Simon on the New Kopu Bridge. While we chatted he handed me my pack towel I had left hanging in the campsite – so serendipitous. He did say he'd bring it to the US if he didn't find me as he was coming to the Olympic Peninsula in May!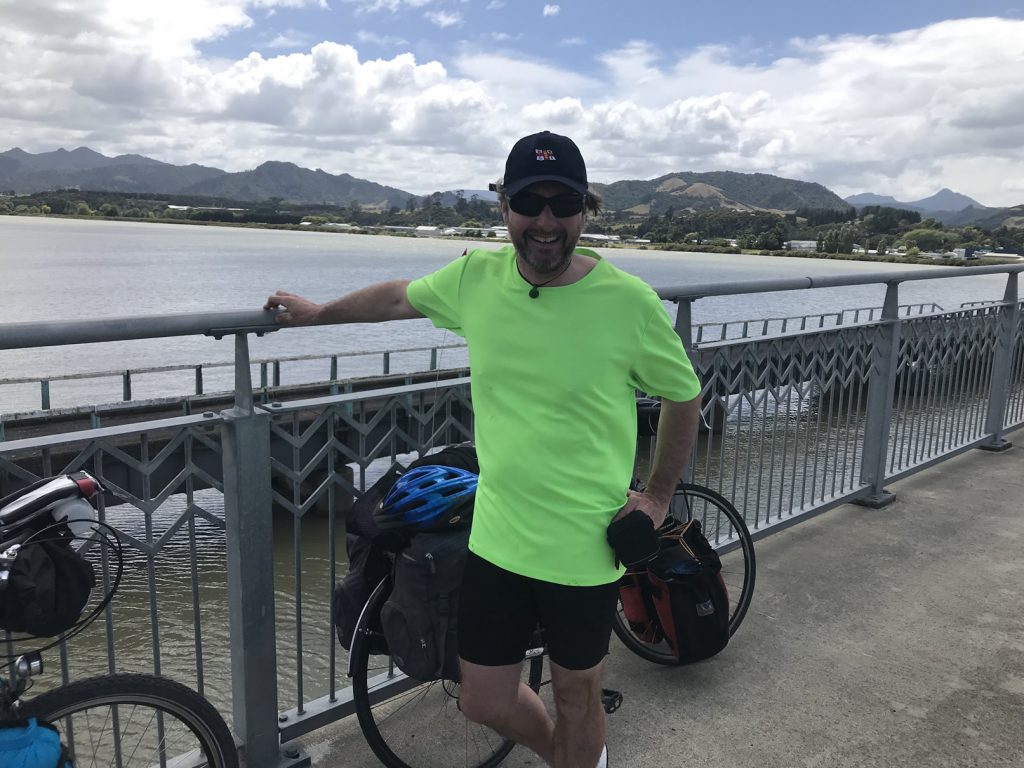 Continued along the trail and eventually into Matamata and Hobbiton. There was a art and music festival going on, so I roamed around town taking it all in and eating of course. Battled wind and hills to the Waikato River Trails, which were a mix of boring, some unrideable with a few excellent sections thrown in. The suspension bridge at Arapuni Dam was interesting and the trail got better to Jones Landing. Planned to camp there, but some sketchy drunk teens made that impossible. Ate lunch and continued on the rolling roads and hills to Jim Barnett Reserve. Had it all to myself and free to boot! There was potable water and restrooms and I fell asleep to the sound of birds which filled all the trees above me. Lovely.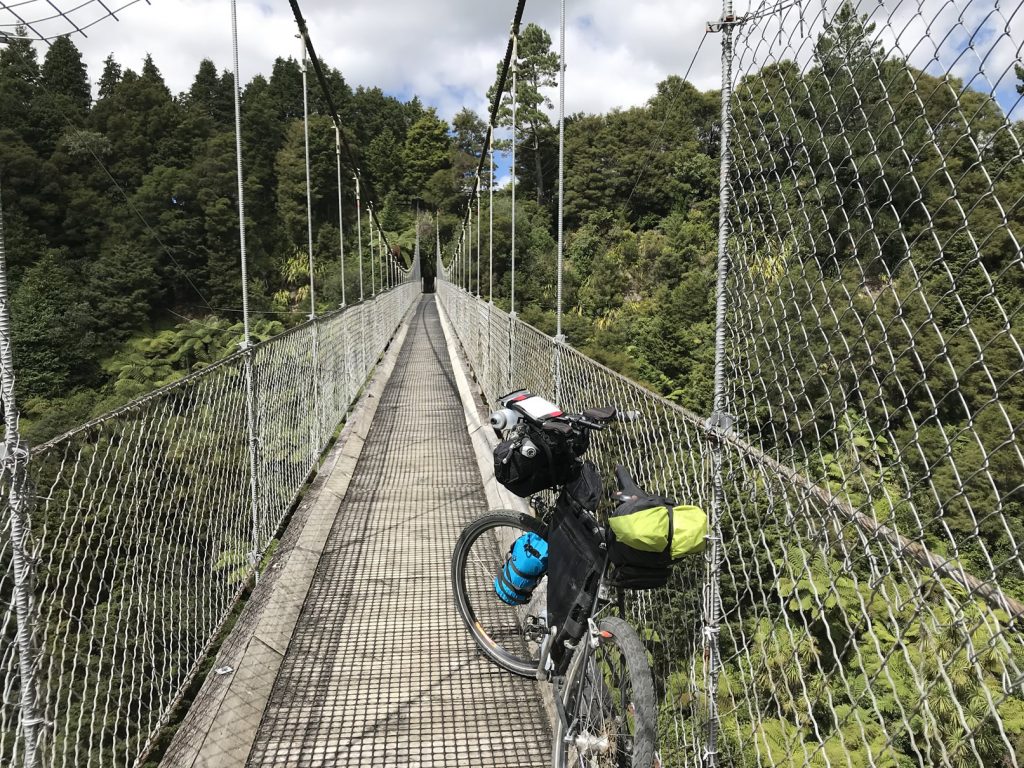 25 February. Wondering about the bike and my ability to handle the Timber Trail…sounded rough. After 10 days I was a little beat up, even with a couple days off. Should have brought fatter tires. Decided to continue to the trail and see what happens. Lots of walking and pushing along the river, two crashes, but no lasting damage to body or bike.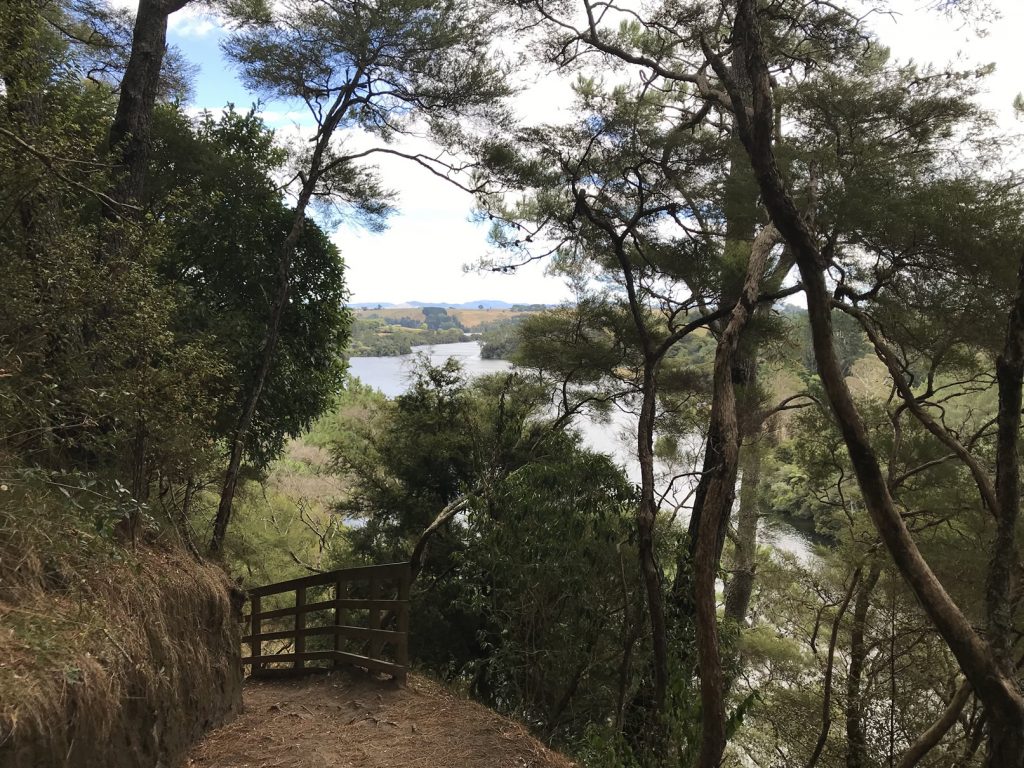 Made it to Mangakino Lake and had another free campsite, along with hoards of other folks, mostly in campervans. What it lacked in privacy, it made up for in the wonderful people. A couple from Holland who were nearly done with a multi-month trip (I was so ready to buy their van right then), to a sweet Australian family that made me hot cocoa and gave me a 2 liter bag of berries! The father, Ricky, told me if Peri needed a job driving mining trucks to give him a call…Gary at the Bus Stop Cafe let me charge up my phone and I had a tea there.
Slept well and had crazy dreams of losing my phone, stealing a developmentally disabled robot doll and being in Nebraska where everyone kept crashing their cars into each other for fun.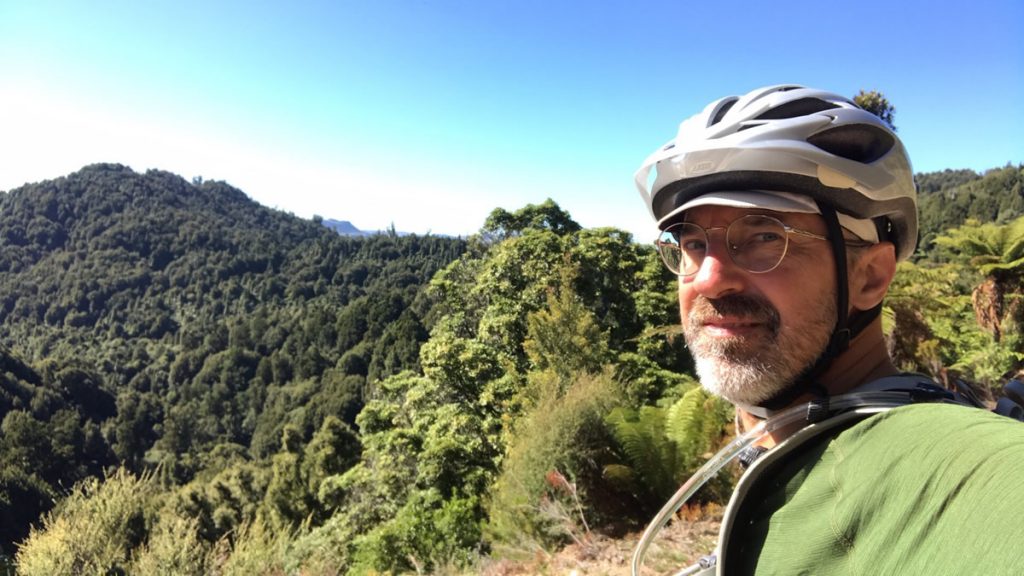 26 February. This was the best day of riding so far. 52km of trails and gravel roads, lots of climbing. The first swing bridge over Mangakino Stream was easy, the Arataki Wire Suspension Bridge took some effort. So narrow that I had to roll the bike on the back wheel and wiggle it to keep the pedals from catching. Of course it's moving the whole time too!
Made it to the Centre of the North Island, a major milestone, and one of the few spots where you could get a cell signal. I crashed again, but nothing broke. Arrived at Pureora DOC (Dept. of Conservation) Camp and pitched my tent after talking to some veteran "ramblers" who were parked nearby. No shops, food or cell service here, just a nice bathroom and water. Camping was free.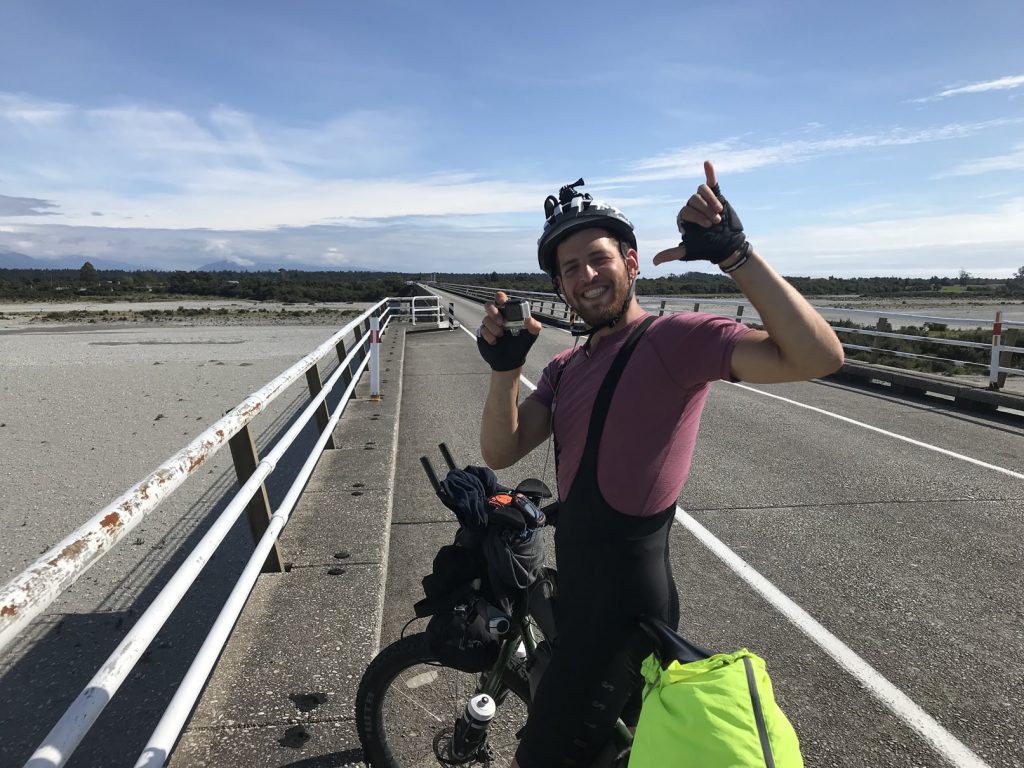 As I was making food, an Israeli bikepacker named Guy came up and asked if I knew where the store was. Hated to tell him there was none, as all he had left was a half jar of peanut butter! I offered him food and he said his buddy was coming along soon and they had a cabin to stay in. I didn't know that was even an option, but rode with him to where they were. His buddy came – a grizzled older Israeli named Avinoam with knee high neon green socks and no gear…just a little 500ml water bottle on a road bike. Guy said he never even saw the guy with a sleeping bag. I hung out with them a bit and from that day on Guy and I would cross paths many times.
27 February. It's Timber Trail day, one of the most vaunted cycle routes in NZ. As the DOC camp was right at the terminus, I was on it in short order and it was truly wonderful. All well-signed singletrack looping up and around to Mt. Pureora at 1000m. Along this short stretch was the only cell coverage, but I didn't need it as I had no idea where I'd stop for the night.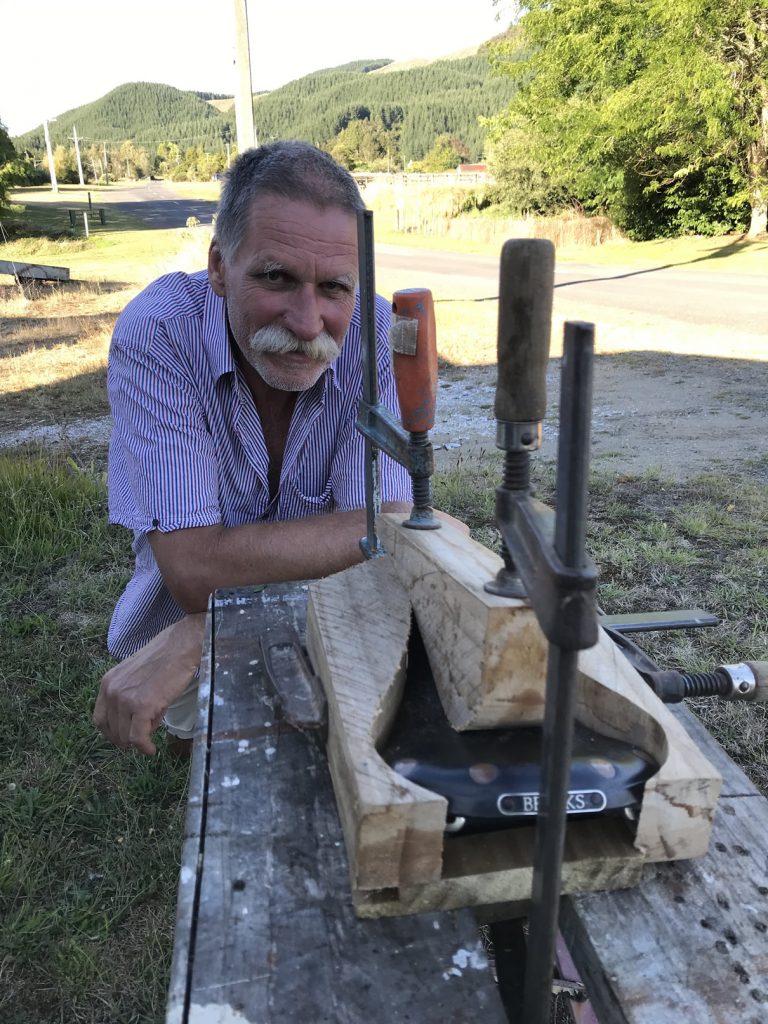 The whole day was just a spectacular trip through the woods, with some rougher sections my 2″ Mondials didn't like, but worked fine. Imagine I would have bombed this with 3″ fatties. Lots of places to stop and look into the valleys, read history and always suspension bridges, most installed in 2010. The Ongarue Spiral was super cool. Was 85km of fun and would love to do it again. Met some Swiss fully loaded cycle tourers heading *up* the trail. Made it to Ongarue and met the famous Rem Rensen of Flash Backpackers, which was itself an adventure!
Camped at the public park next to Rem's place for free. Was the only one there and had a nice wind break and heated bathroom nearby. Fancy. I hung out with Rim and he fed me fresh corn on the cob and he gave me onions, corn and zucchini. We drank a few big Lion Red beers and chatted into the night with his neighbor Martin who knew my friend David from The Woodstock School in India! Amazing connections.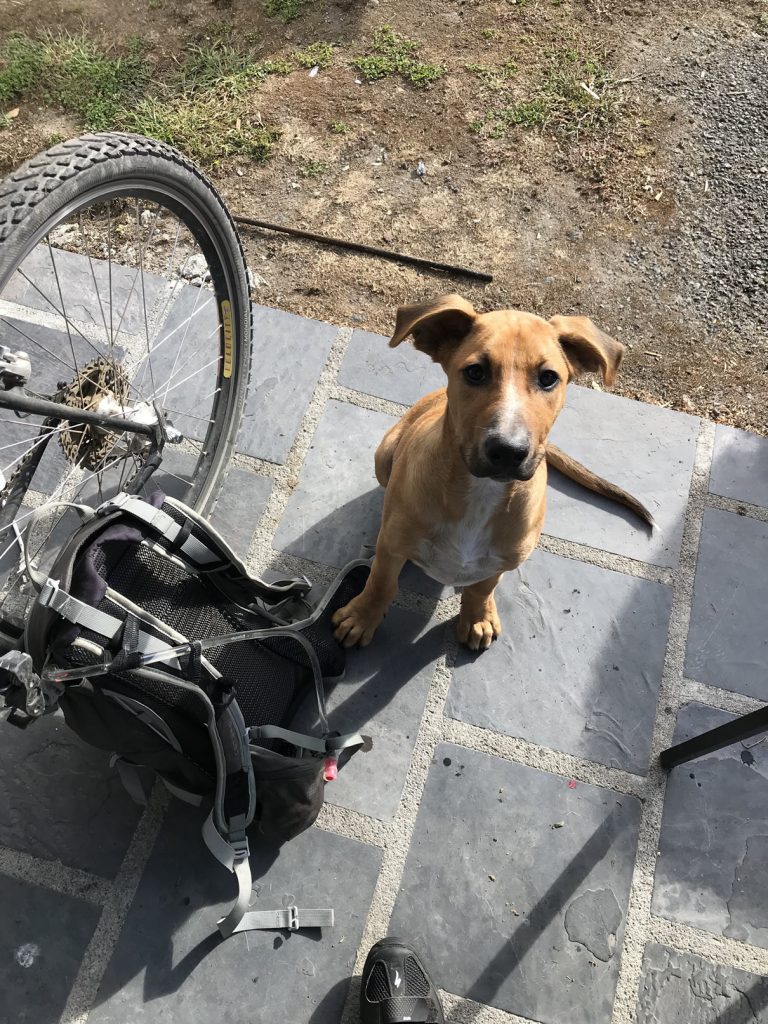 28 February. Woke up to a lovely morning and soon a little puppy was wreaking havoc on tent and gear, but too cute to scold. Packed up and made my way to Rem's place where I met the beekeepers who's puppy it was and they felt so bad they gave me a huge honeycomb filled with honey. Rem said it was over $25 worth of honey! Got a tour of Rem's handmade frames and bikes, plus a fascinating Brooks leather saddle stretcher he'd built. Such an interesting fellow.
Headed to Taumarunui to get some food, then decided to camp at the Holiday Park. Ran into Hillary's crew and talked with Pam and Ken about their tour so far. The sun was shining and the camping was very nice. Met a guy named Michael who lives in Switzerland and we spent much time chatting about life and travel. We walked into town, 12km round trip in flip flops. Got fruit, yogurt and wine and Indian takeaway for dinner which we shared with a Dutch woman. Used the laundry and the shower and Phil the owner went out of his way to find me a lid for my mug. He showed me all the stuff people leave as most are heading to Auckland from there and flying home, so they leave all sorts of gear at his campground.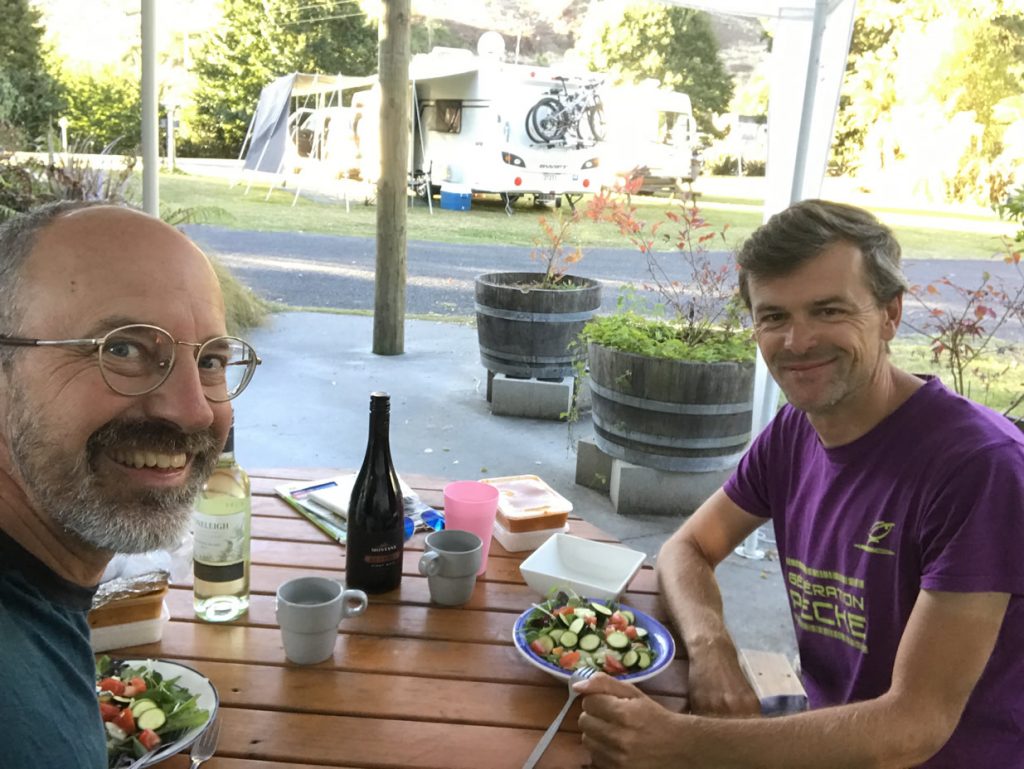 1 March. Opted for an day off here to visit the town and explore the shops. Ate at the Jasmine Cafe and ran into Rim who was out on a bike ride. I picked up a copy of the New Zealand Touring Map which showed many amazing places to travel. It was here I decided to not follow the TA route to Mangapurua Landing, Bridge to Nowhere and the jet boats. Not only was my bike not quite suited, neither was I or my wallet, that section would cost hundreds of dollars I didn't want to spend.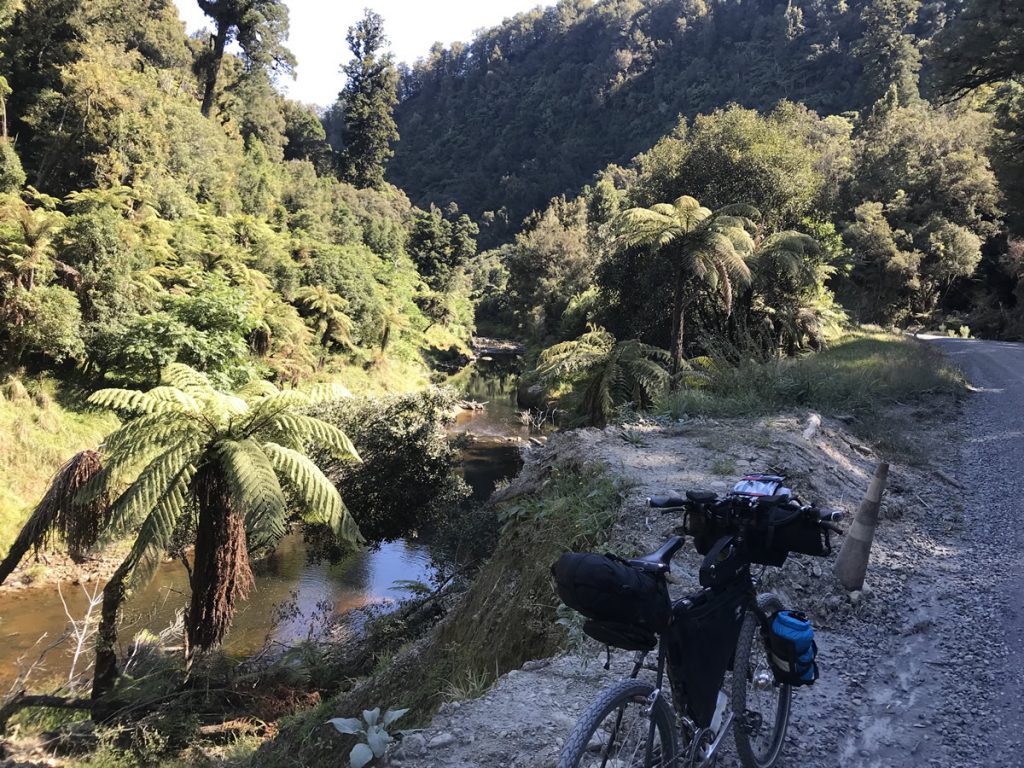 2 March. Veered west to take the Forgotten World Highway #43 to The Republic of Whangamomona, one of the most independent minded communities in NZ. Many long climbs along the gorge, mostly gravel, through thick forests and still air. It was muggy and saw a few purposely set fires and associated fire fighters heading to and fro. As the day wore on there were opportunities for shade fortunately. Was happy to reach Whangamomona Hotel for beer and food. Met a great fellow named John King who was the editor for NZ Aviation News and we chatted long past dark. The proprietor took pity on me when I said I had to find a place to set up my tent and offered me a contractor rate for the night. Felt good to shower off the dust and sleep in a real bed!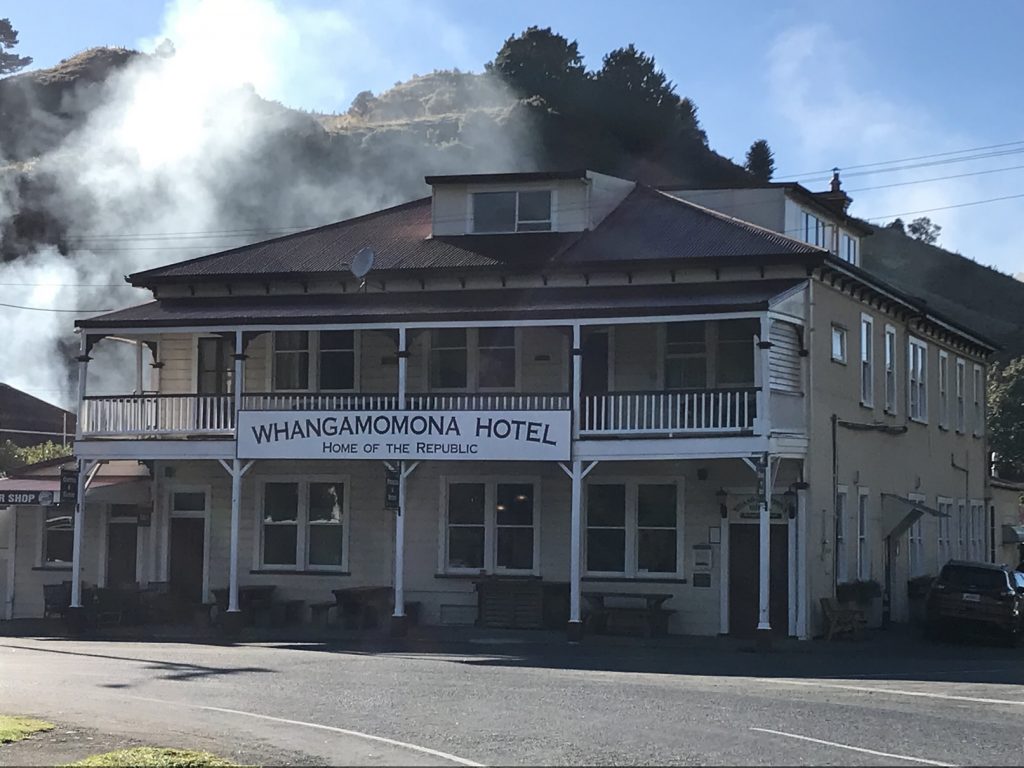 3 March. Continued the highway north of Stratford and to New Plymouth. Most of the way, the Mt. Taranaki volcano dominates the skyline and is impressively huge. The final stretch along Highway #3 was harrowing and dangerous as most NZ paved roads are. Was quite happy to finally reach the New Plymouth. Found the wonderful Ducks & Drakes Hostel and then went to Crowded House for trivia…I knew every answer, but wasn't playing. I should have joined a team.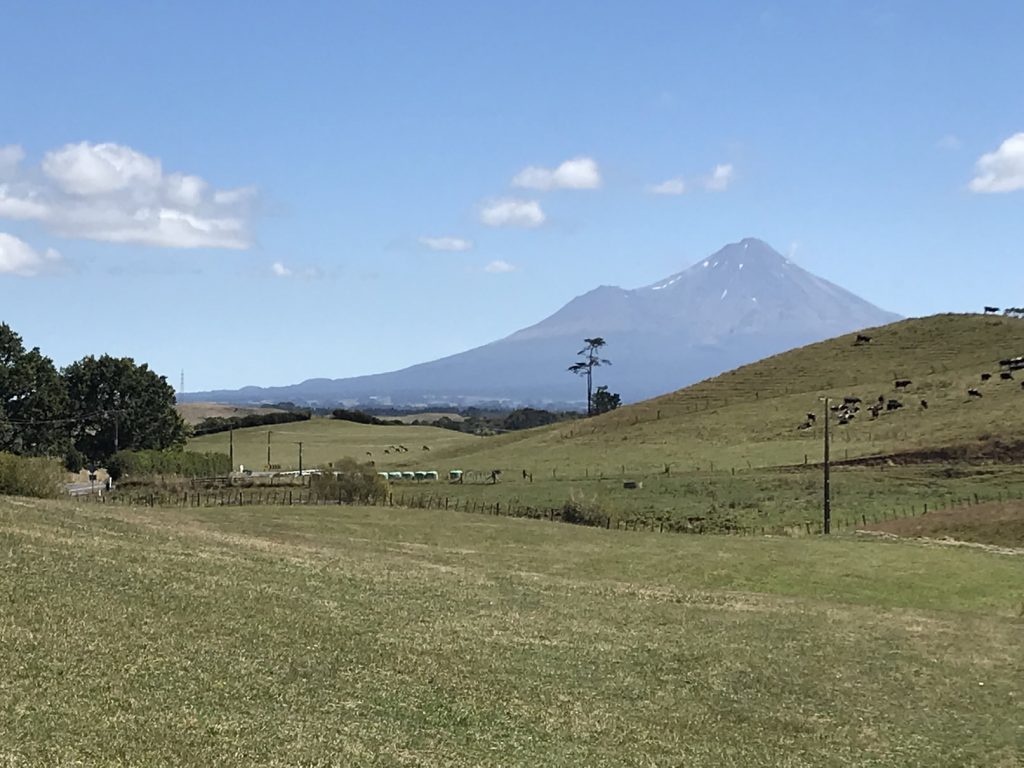 4 March. After yesterday's highway challenge, and my increasingly painful saddle, I boarded a bus to Wellington. Somewhat disappointed in myself for not riding, but that was soon dispelled when the bus filled up and the woman in front to came to sit with me. Her name was Anita from Hungary and we talked non-stop for the entire 7 hour trip. She was fascinating, funny and addicted to travel and moved to NZ for three years. She'd take trips to explore all parts of NZ, including just hiking to the top of Mt. Taranaki volcano! Arriving in Wellington, we had a hard time saying goodbye, so we made plans to spend time together in the city. An amazing bus ride with the ideal travel partner.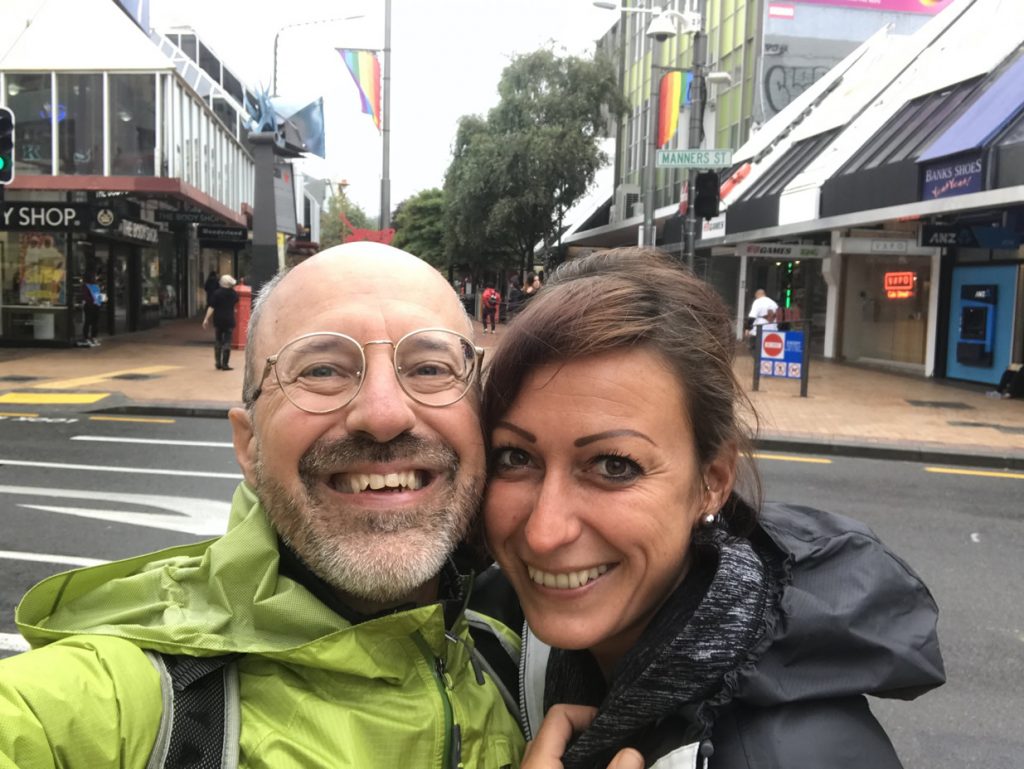 5-7 March. Stayed at the magnificent Marion Hostel in the CBD (central business district) and met UK Sarah with her heart-melting accent who was always happy. Had lunch at Southern Cross with my daughter's bestie Pearl who lived in Upper Hutt as an aupair. Great to catch up and she showed me around Welly!
My bike was at Bicycle Junction (great bikeshop) for a new saddle and re-soldering my dyno wires which had been damaged in transit. Hiked Mt Victoria, strolled the streets, got a nice wool buff at Gordons Outdoors (fantastic shop) and ate at Tulsi Contemporary Indian Cuisine. Met Anita for lunch and wine at Monsoon Poon Thai where she schooled me on the All Blacks "haka". Discovered lots of fantastic places: Cuba St; 1154; The Library; Dirty Little Secret; Eva Berra; The Irish Pub and Kazu Yakitori & Sake Bar (43) where I met Carmel and went to her amazing Marvelous Mechanical Musical Maiden performance at the Fringe Festival. All in all, I loved this city!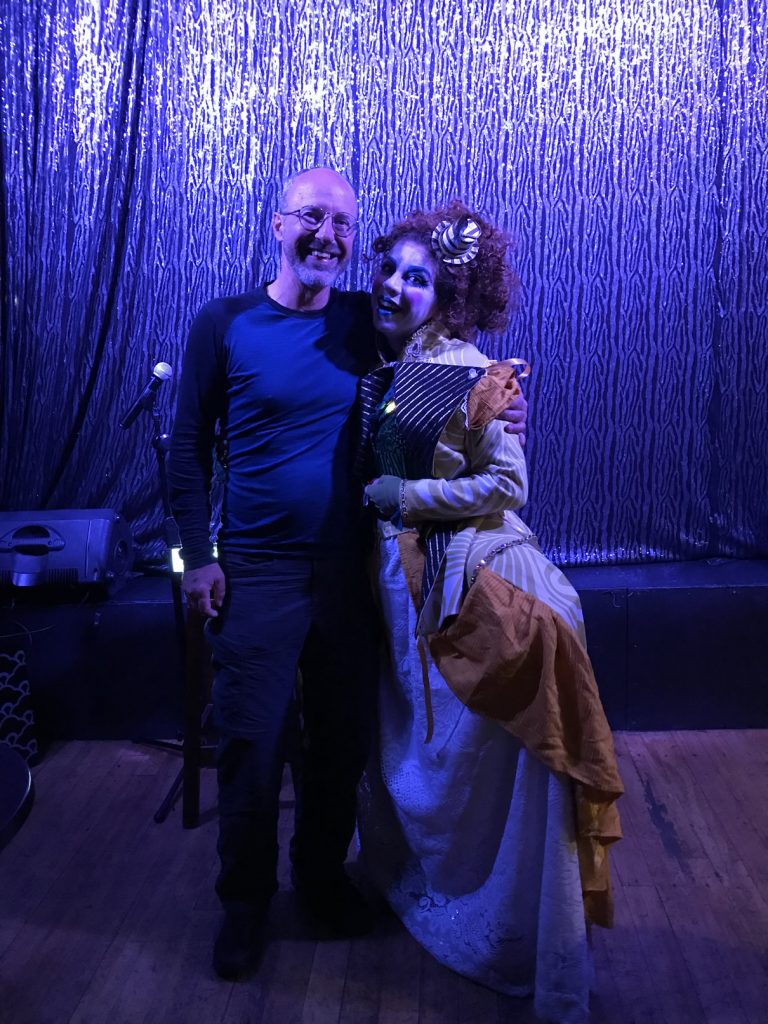 8 March. Caught the Bluebridge Cook Strait Ferry to Picton, a 4-1/2 hour trip to the South Island. Fairly grey and fogged in, so not much to see. Stayed at the Atlantis Villa Hostel in downtown Picton which was eclectic and the owner was welcoming and quite the character.
9 March. Headed west through Havelock where I had the best green-lipped mussel pie ever! Was going to stay at the Holiday Park, but the owner encouraged me to ride to Pelorus Bridge which was much prettier. Camped at the DOC site, which was damp, but nice, with a cafe for fish and chips. Anita sent me a note to keep her appraised of my travels, which for now were fairly flexible. Had some sunshine and felt good to be closer to nature again. The South Island has a different feel.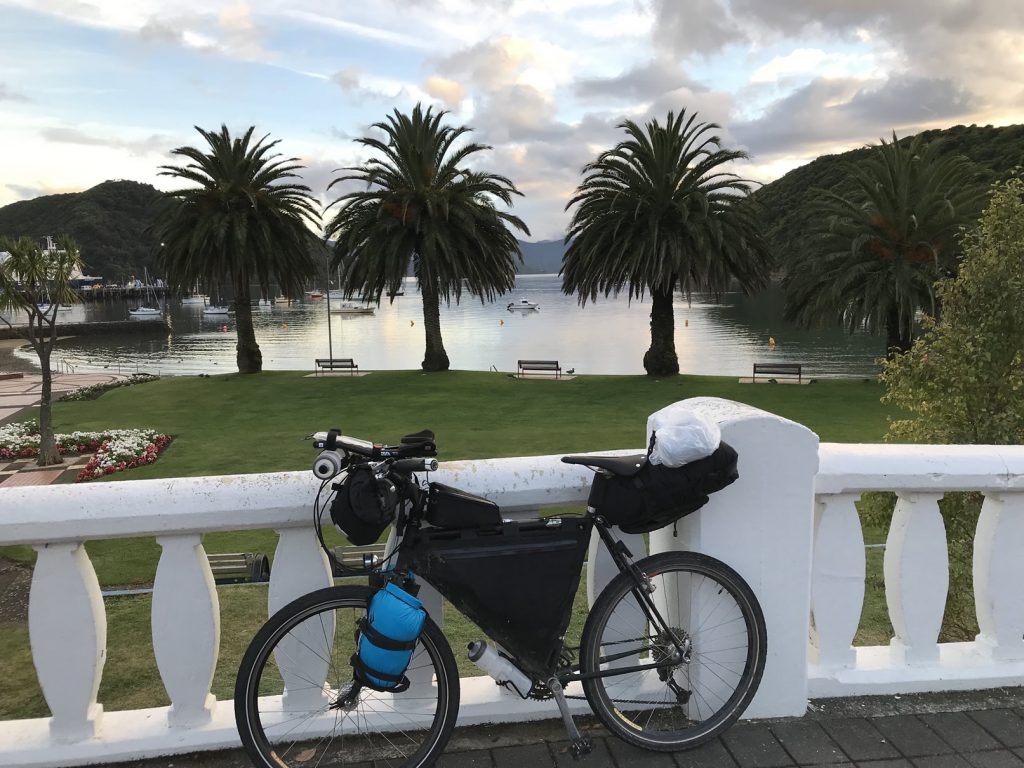 10-11 March. More bizarre dreams. Rode from Pelorus Bridge Camp over the Whangamoa Saddle and concluded with a ripping descent of big flowy curves into Nelson. Decided to layover a day to explore and stayed at MidCity Hotel. Met US expat Erika at MD Outdoors who was from Seattle! Had a delicious fish taco at Deville and a mimosa beer at the very wonderful Free House with it's radiant heat benches, very smart. Harry Hawkers had fantastic food. Explored the Botanical Park, geographic centre of NZ, plus Queens Garden and the Huangshi Chinese Garden. Visited the Urban Bicycle shop, a father & son team with handlebar mustaches and a very well equipped Rivendell-style place.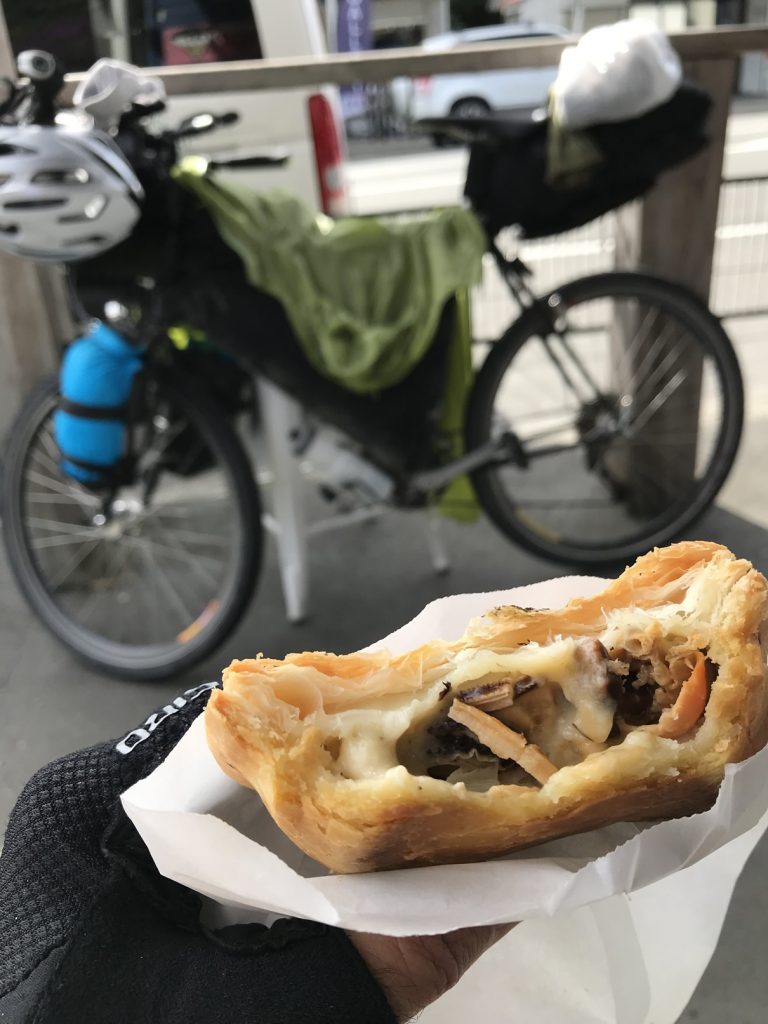 12-14 March. Took a bus to Westport, the road seemed just too daunting and weather was getting bad. Arriving there the rain was beyond torrential, streets flooded, and not a let up all day. Found a room at The Quarry and tried to wait out the rain. Would have liked to get rolling but visibility was dismal at best. Many TA backpackers were also stranded. Did get a tour of the local brewery and learned some things at the museum. Slashed my thumb open with a knife and gushed blood over everything. Opted to stay another day as the rain would not cease, but late the second day it eased off and I was able to explore the hiking trails along the estuary and eat takeaway sausage roll, so not all was lost!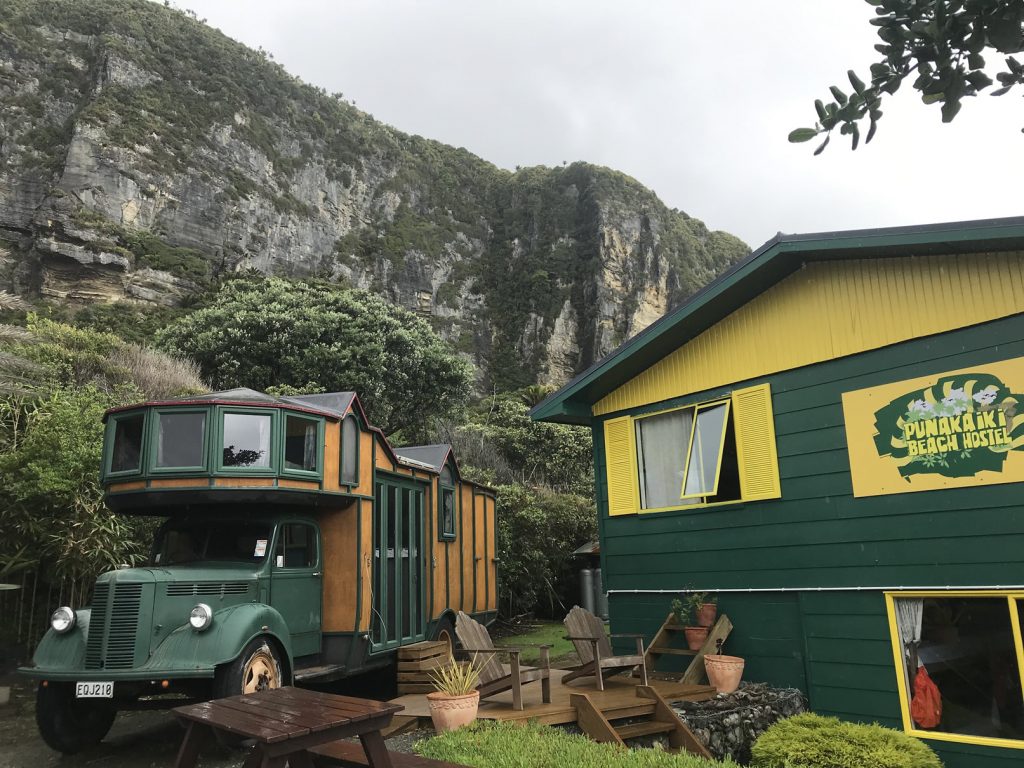 15 March. Despite the constant monsoon level rain, I decided to try and ride south…somewhere, anywhere. Rode through hellish rain, but less traffic, and no visibility to Punakaiki Beach Hostel. Met Ger just as I got there and we enjoyed a nice beer and hot food at the tavern. He was a German traveling all over NZ and making knives along the way with things he found. Was good to warm up and be dry. Met Christine from Ottowa who loves traveling and had a great chat with Marie from France who I'd see a number of times over the next few days. She was a backpacker and bussed from place to place – no camping, just hostels.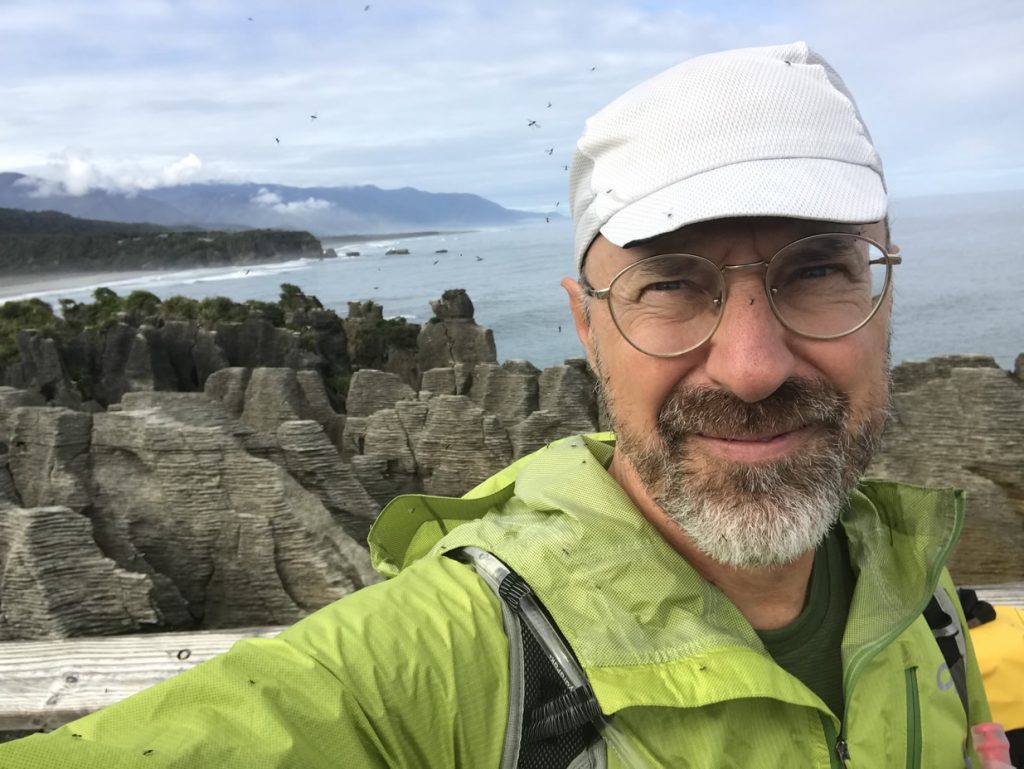 16 March. The weather is clearing, so time to start down the South Island coast. Contemplating a great deal on how I live my life in the US and how much more normal I feel while traveling. Like the feeling I used to get when I was younger and summer mornings made me feel so happy and free. Traveling is like that and I want it all the time. A beautiful ride down the west coast past Pancake Rocks where I took the walking circuit among these fantastic sea-worn stacks. The bugs were atrocious and the sand flies were to remain my nemesis for most of the next few days, brutal on the ankles.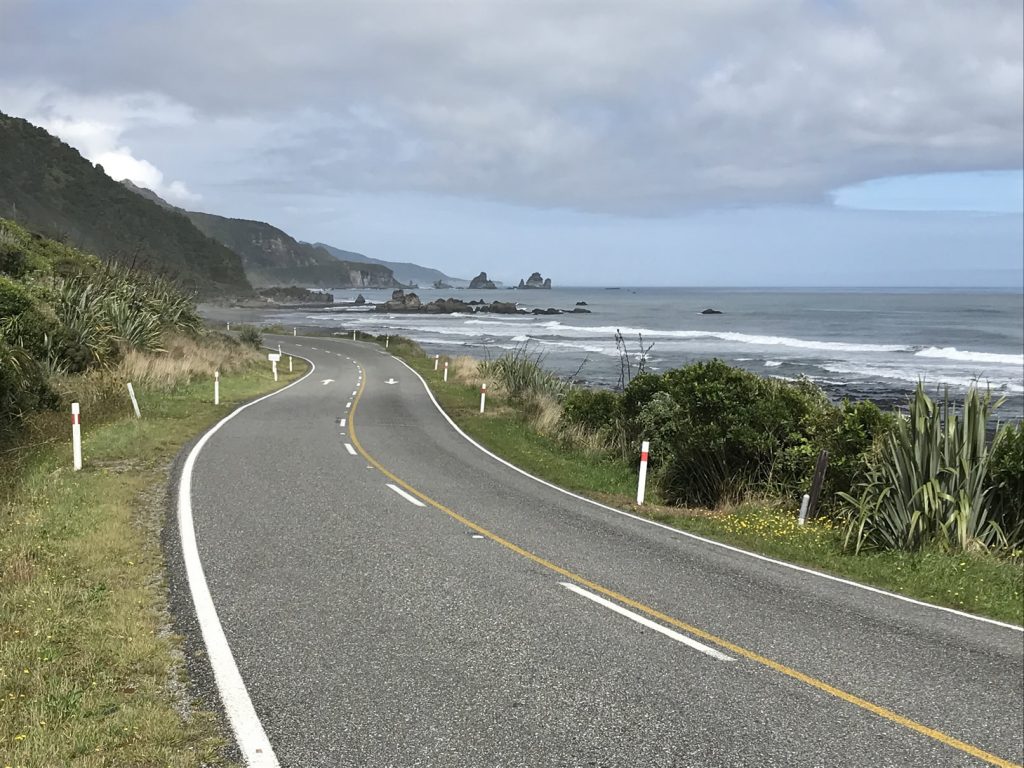 Arrived in Greymouth and checked into the Railway Hotel. Was St Paddy's Day (in NZ), so went to Monteith's Brewery for a radler and whitebait in batter and enjoyed listening to a live Irish band while waiting for my laundry to be done at the nearby caravan park. Two older women helped me with detergent, change and which washer was the best. When finished, I headed back and walked along the river and had a nightcap at Speight's. Marie and I are planning to connect in Fox River.
17 March. Leaving Greymouth along the wonderful coast trail I met Andrew who rode with me for a couple hours and was a wealth of knowledge. He was a bike/moto guy and hope to meet him again! Arrived at the Hari Hari Hotel, on State Highway 6, approximately halfway between Franz Josef Glacier and Hokitika and had a great meal there. Learned a bit about the landing site of the first trans-Tasman solo flight and New Zealand's only White Heron colony nearby.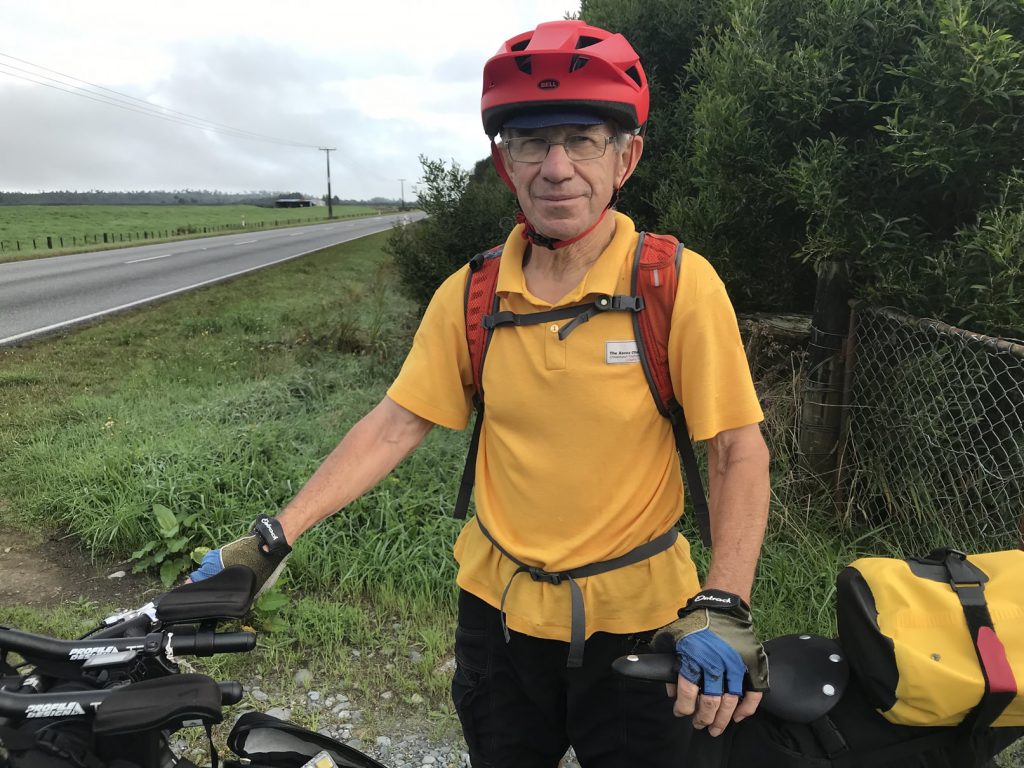 18 March. Beautiful weather, sunshine eventually and gorgeous surroundings all day long. Met a German couple who told me about a great spot to see kiwis at night and we enjoyed the best view of Franz Joesef Glacier together. Soon after, some idiot in a white van clipped me with his mirror in the right elbow after crossing a bridge…luckily he wasn't going very fast and I didn't crash, but was run off the road. He never stopped. He's lucky too, I would have beat the shit out of him.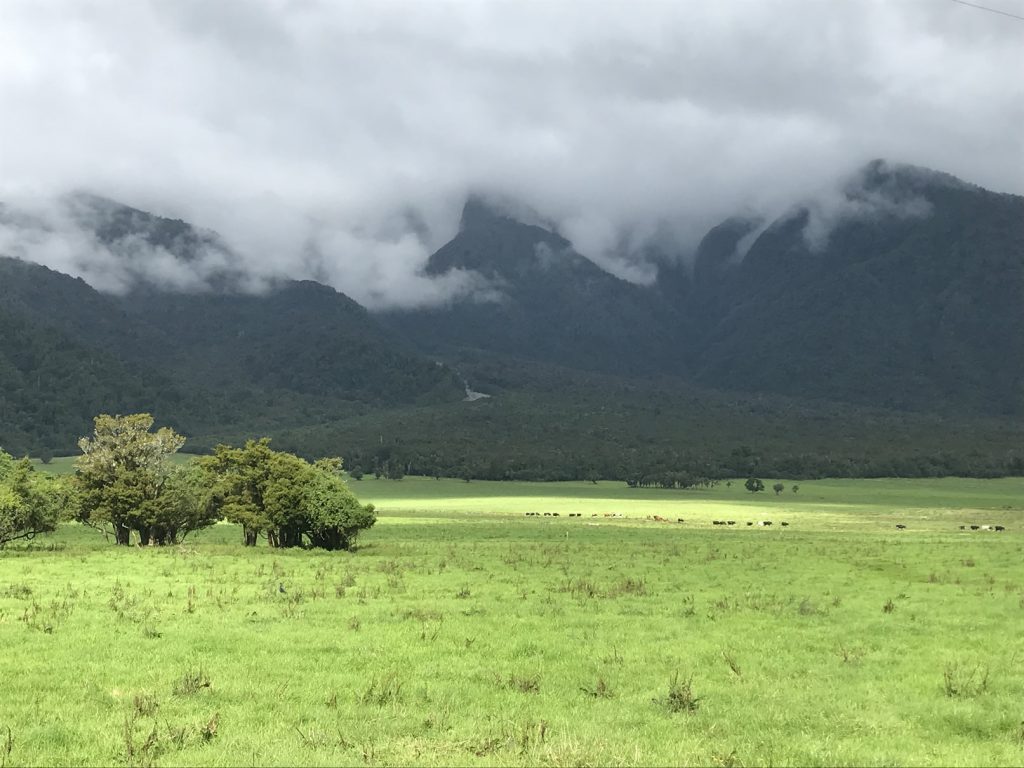 Stopped in Whataroa for a whitebait sandwich and met a cool UK woman who was fascinated by cycle touring. As I was heading out of town I ran into Guy who had been staying there in a homestay. Had a good chat and continued to Franz Josef. Too many tourists, helicopters and generally frantic. I grabbed some cold beverages and left as soon as I could.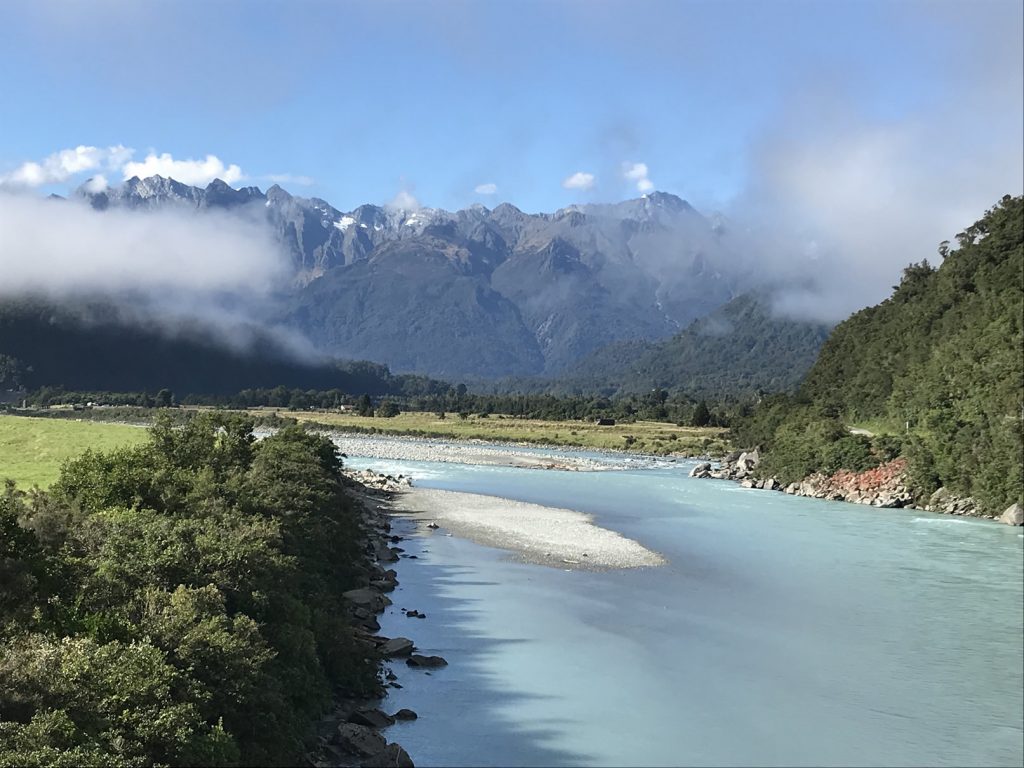 Though only 21km to the town of Fox Glacier, the roads were steep, with constant, winding switchbacks and extremely hot. Always thankful for the 3L water bladder in my pack, I used it all. Made it and stopped at the Cook Saddle Saloon for a beer and squid. Marie was at the Ivory Backpackers and I got a room there too. Immediately hit the hot tub and had a great chat with Jennifer from Brisbane who plays piano and was doing hikes all over the south island. Marie and I made dinner at the hostel, then to the saloon for pavlova, squid and wine. Walking back, we went to see the glow worms in a small forest area under the full moon, so utterly magical. She was such a curious and wonderful companion.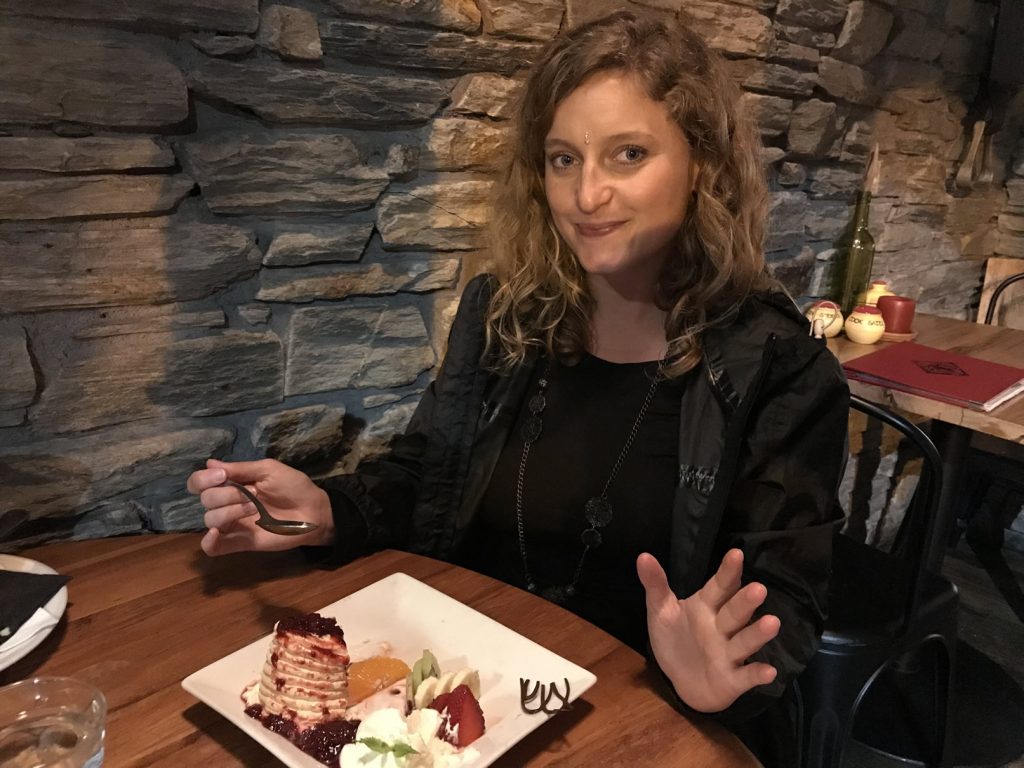 19 March. Long, relaxed morning, breakfast and tea with Marie, then a goodbye hug before pedaling south again. We would meet later in Wanaka. Then came a long meandering pedal along the alluvial deposits and fields between the mountains and sea. Ran into Guy in Karangarua and he handed me a banana. Didn't feel rushed and as the Pine Grove Motel was right there, I stopped to camp while Guy continued to Paringa. Nice hosts, great neighbors. Lots of sandflies though, so questioned my decision, but the sunset was peaceful and gorgeous.
20 March. The route headed back along the sea, and the terrain and weather were quite nice. Met up with Guy and we rode to Ship's Creek together. I opted to stop there and take the walking tour and it was such a beautiful beach area. This was the swamp forest, interspersed with New Zealand's tallest tree, the Kahikatea (white pine). The sun was shining all day and it was a nice ride to Haast. Checked in at the Wilderness Accommodation hostel, which had an atrium and great rooms. Ran into the four kiwis including Phil which was a treat. Met Marcie from the Phillipines who worked there, she was so sweet. Guy and I shared a room with a guy who was so loud…lots of crinkly plastic, but we survived.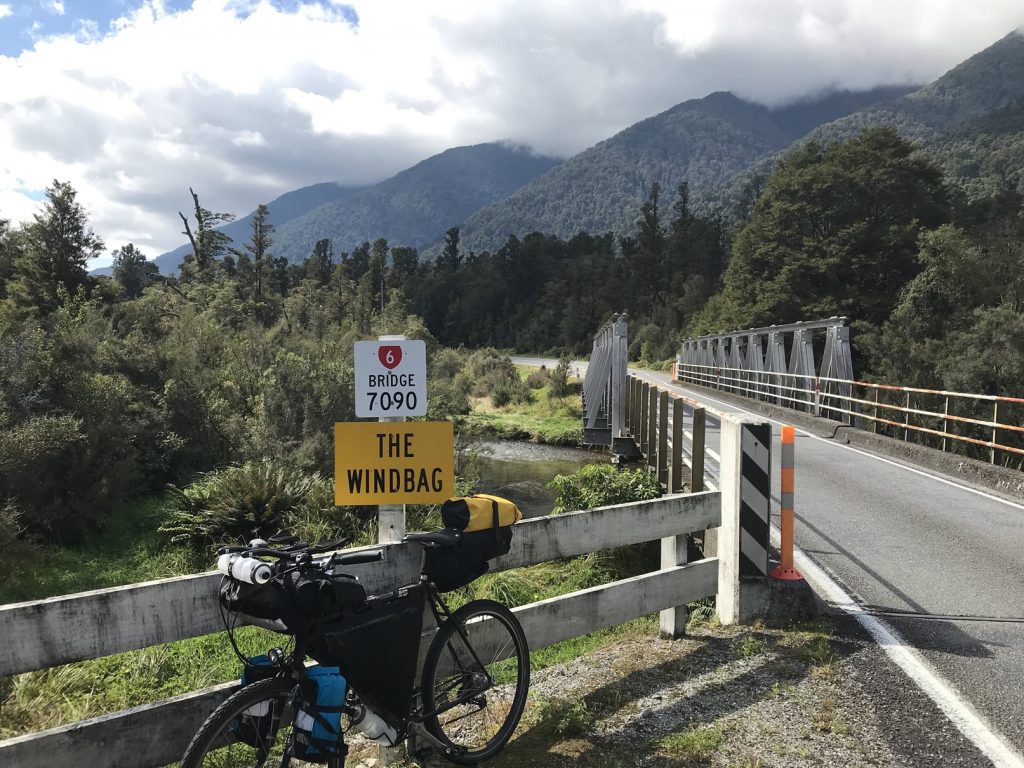 21 March. Haast to Marakora Tourist Centre, heading back inland along the Haast River with Mounts Victor and Macfarlane above. The day gained elevation near Thunder Creek Falls and the roads were steep and winding…and pretty narrow in places. Met a nice couple in a campervan who snapped my photo and we had a good chat. Arrived in Marakora happy and thankful for sunny skies.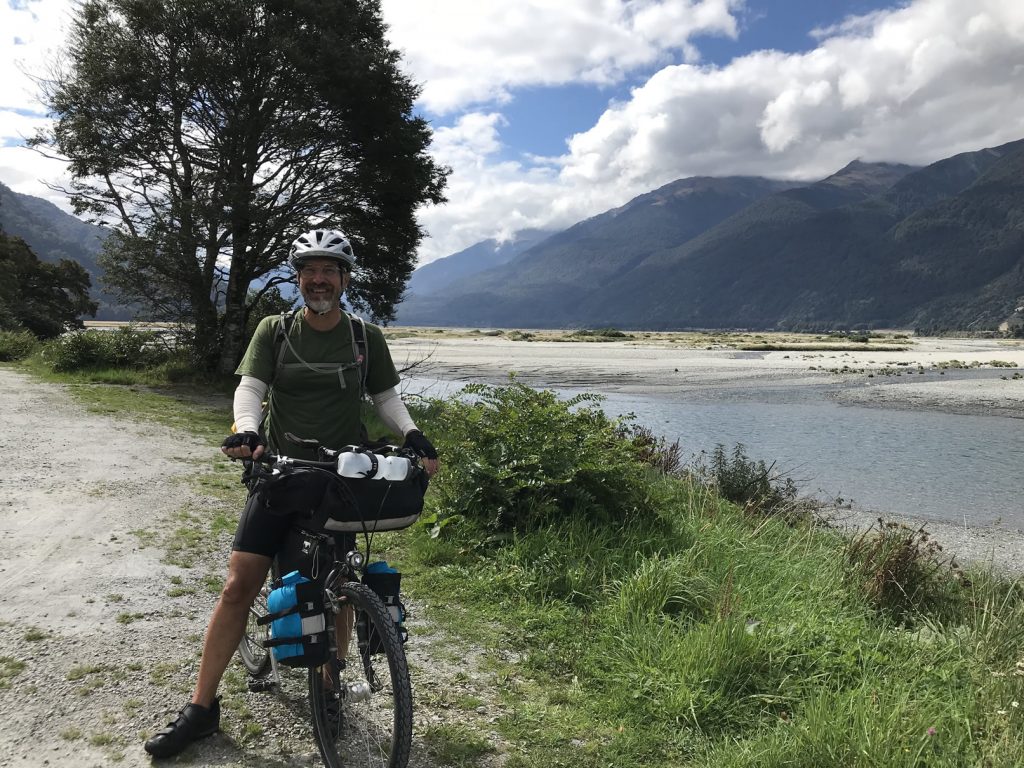 22 March. Am looking forward to Wanaka. This section of road was spectacular, weaving along the shores of first Lake Wanaka and then crossing at The Neck to glide along Lake Hawea. Beautiful! The Treble Cone ski area is near here. Wanaka is quite a tourist destination and I got a room at the very packed Matterhorn Backpackers in a 8 person dorm room. Saw Marie a couple times and hung out at a cool bar called Cork. Guy and I ate great Indian food at Ashraf's. The moon was bright and full. There was lots to see and a good break, but was ready to escape the crowds for something less busy.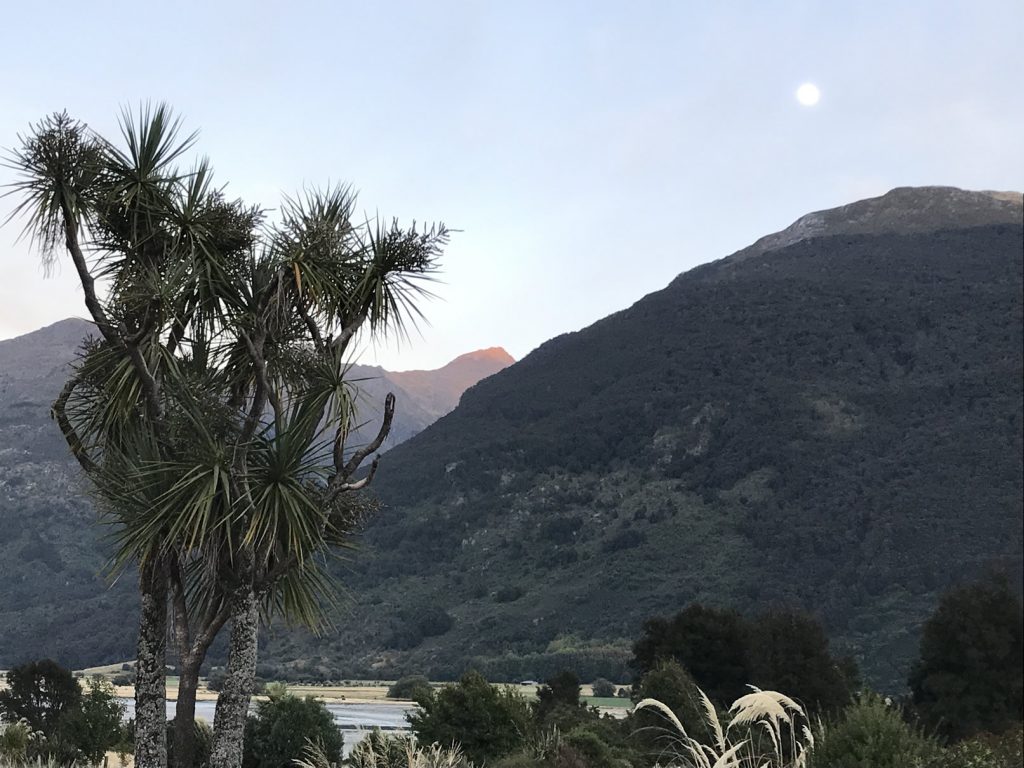 23 March. Today was the epic crawl up to the Crown Range…starting early I had no idea how brutal it would be, but the scenery was stunning. On the road to Cardarona, there would be sticky "black spots" on the road, like tar, that came from the beech trees. The chipseal was not so pleasant, but when the climb started I knew it was 40km of ever increasing up. With the wind, traffic and no shoulder it was challenging. The summit provided stunning views all around, but far too windy to stay long.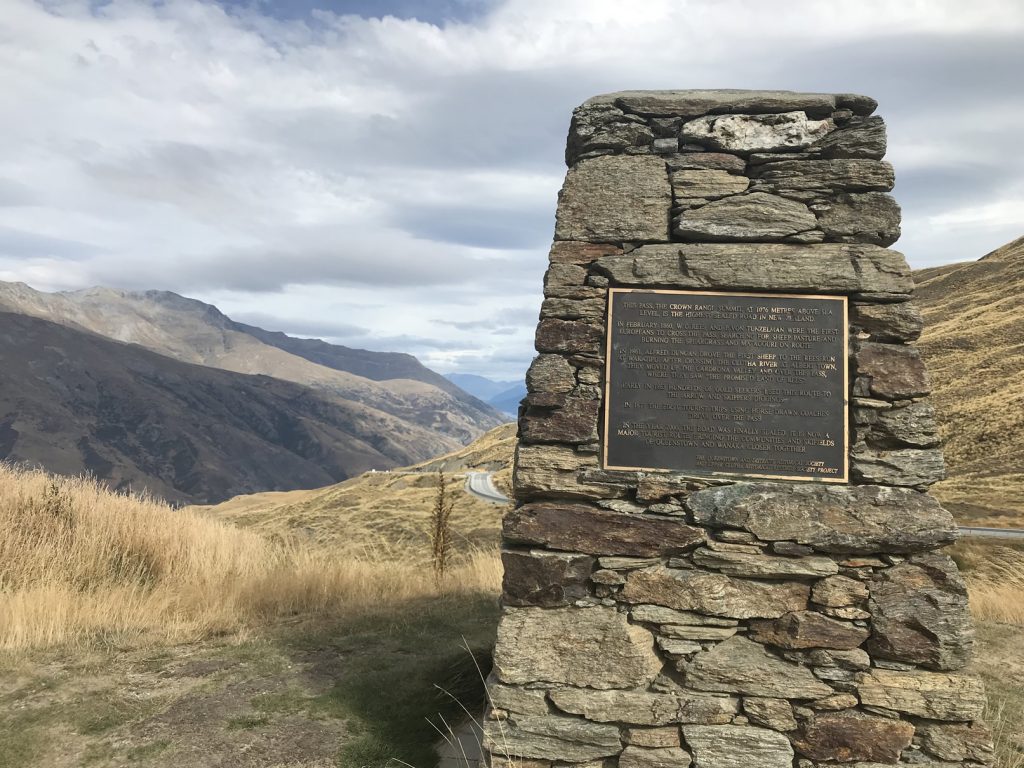 The descent was winding and fun, no big speed achievement as usual, seems nearly all the downhills in NZ are never quite as thrilling as I want them to be! Opted to skip Queenstown, it's just another Whistler/Breckenridge-type hell hole. Navigated through Frankton's retail nightmare and then followed bike trails to the road along Lake Wakitipu. Reached Kingston and found a wonderful cafe, then a small cabin at the Holiday Park. The park was building wooden bunkhoues and doing it all without nails or screws, very impressive woodwork. Had a good shower and chatted with Micco next door over wine about the upcoming trail section.
24 March. Headed out through town and got on the Around the Mountains Trail – from the moment it began I was enthralled with the land, the trail and everything about it! So fantastic. No traffic and outside of a few cyclists and a sweet woman with a dog, it was a dreamy ride. Stopped in Garston for a full breakfast and latte. A few brief showers, but nothing substantial. Enjoyed a tailwind all day long. My ankles are covered in itchy spots from sandflies…little did I realize it would take weeks for them to stop itching!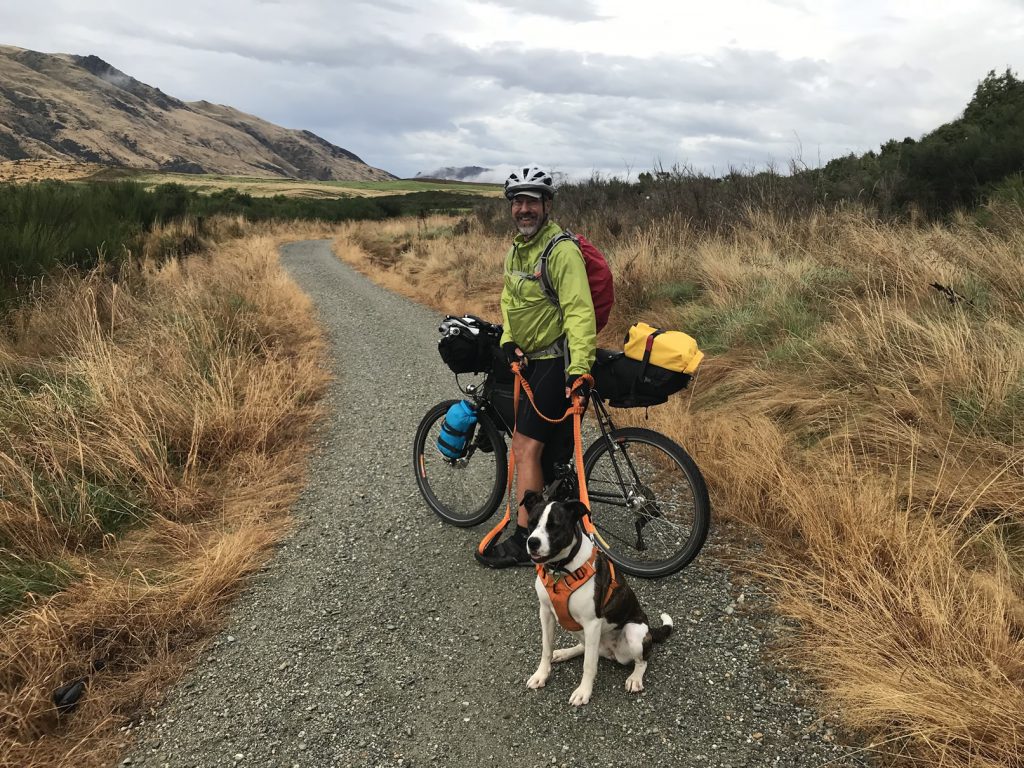 25 March. Rode mostly sealed roads today to Lumsden which was a small interesting little town with lots of free camping (mostly campervanners), but I opted to stay in a strange hotel. Huge, entirely empty except for me. Think it was an old railway hotel back in the early 1900s. After 125km I was happy though and found a cool little coffee shop to hang out. Ate a nice dinner at the nearby hotel and had a great conversation with a couple there. Am sort of looking forward to the end of the ride, starting to feel like I need a break.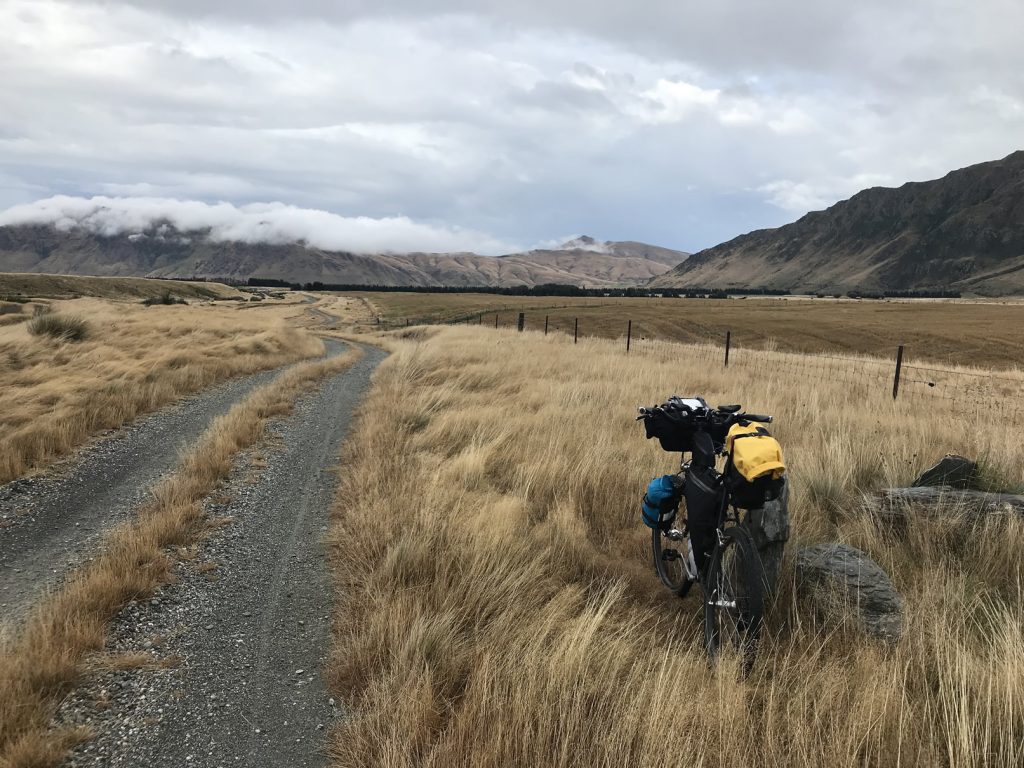 25 March. Long, wet ride to Winton. Ran into Guy and he decided to continue. In retrospect I should have, but the tailwind I began with turned into torturous, cold sidewinds. That gets a little dangerous when traffic is more frequent and knowing the attitude of drivers here toward cyclists and pedestrians made it nerve-wracking. Just as the rain stopped I arrived at the Commercial Hotel & Bar, where the owner, Allison, graciously let me use her dryer while I had a beer. It was quiet and we had a great conversation. Took a stroll around town and chatted with the local motorcycle guys about the Suzuki farm motorcycles with practical racks. Slept well in a dry bed and had sad dreams.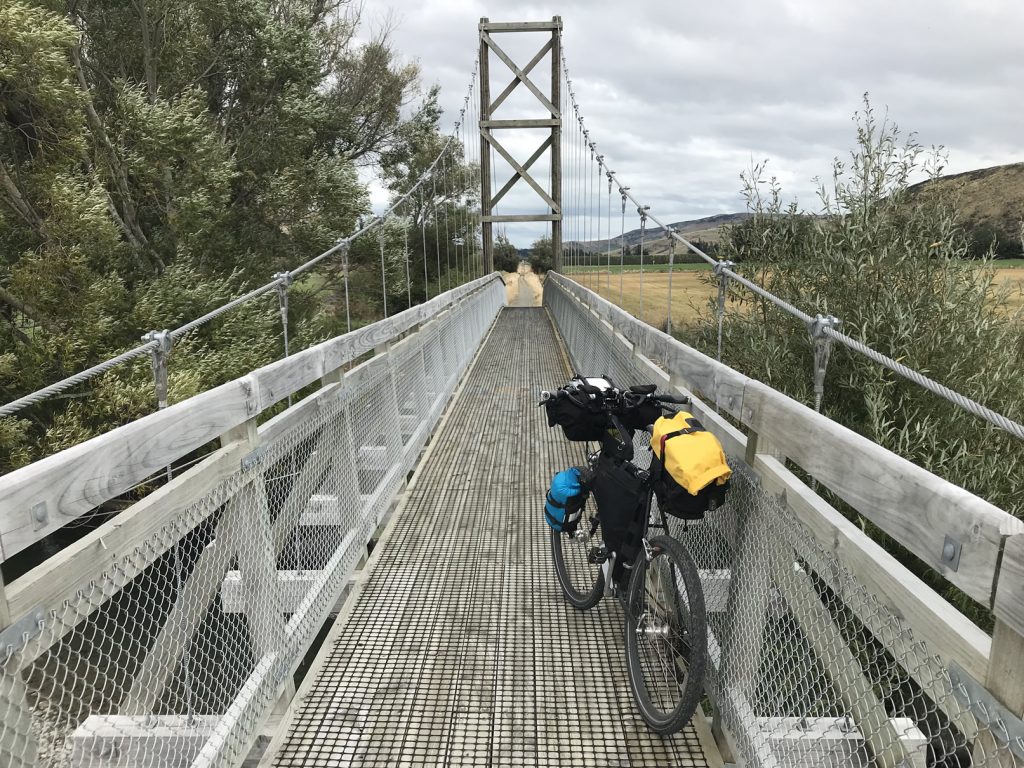 26 March. The goal today was Bluff, but that soon proved over ambitious as the sidewinds were ferocious, causing me to walk for long stretches along the side of the road. Weather reports showed speeds over 20mph with gusts over 30mph. It was demoralizing, and dangerous. Made it to Wallace and stopped in a little convenience store. The woman there took pity on me and got me a chair so I could sit in the shop out of the wind, very sweet. It was there I decided to head straight to Invercargill and my Warmshowers hosts. Trying to make Bluff, with it's ever increasing traffic and narrow roads was not in the cards. Got a message from Guy who had made it to Bluff, so was happy for him. As my flight was leaving in two days I made Invercargill my final destination.
27-28 March. Tabitha and Chuck, my Warmshowers hosts were fantastic! They were both doctors and have sailed around the world. Chuck had some very nice bikes and was into randonnuering. It was a wonderful way to finish, even though a part of me was disappointed to not make Bluff. Spent the day washing the bike, then dis-assembling it to pack in the box my hosts had graciously stored during the ride. Guy and I met up for dinner with Chuck & Tabitha who treated us and then drinks at a very cool bar with some amazing live music. The owner was very talkative and graciously got us a seat right in front. It was a wonderful end to a long tour.
On the 28th I flew to Melbourne and met Peri at the Elizabeth Hostel – it was so lovely to see my daughter again! The hostel was a little sketch, but we only had two nights before we rented our campervan and took off for 3 weeks of exploring Australia! That story will have to wait, but it was truly amazing. Flew back to the US on 1 May and had to cut my lawn first thing…all the while wishing I was still traveling.
Equipment
Using the same bike as other tours, Khojana Wala. Bags are Carousel Design seatbag and front roll, Cleveland frame bag, fork bags and front pocket, Revelate top tube bag. Schmidt dyno hub, White Industries 10sp rear hub, IRD friction thumshifters, Suntour XC Pro levers and Shimano low profile cantilever brakes. 26″ Velocity Aeroheat rims with Schwalbe Marathon Mondial 50-559 tires. Jones 660 SG bar, Profile Design T2+ aerobars, Brooks Ti Swift saddle (changed to wider C17 Cambium in Wellington).