Tour Aotearoa
The Tour Aotearoa route, designed by Jonathan Kennett, a New Zealand cycling guidebook writer. In 2016 he organized a Brevet to highlight the best New Zealand Cycle Trail Great Rides, Heartland Rides, and quiet back country roads. As an off year for the brevet, this was my opportunity to do it!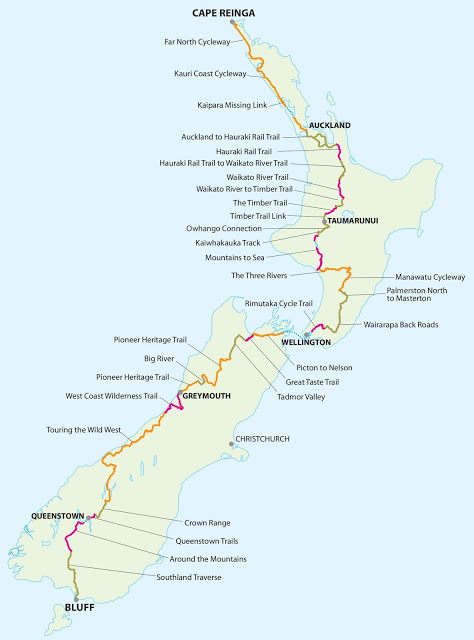 Arrive in Auckland, New Zealand early February 2019 to get final preparations done. This free time allows me to get in the groove and pick up items I can't fly with (like gas canisters). In addition, I'll have time to see the baby red panda and kiwis at the Auckland Zoo!
The next leg brings me to Kaitaia where I'll build Khojana Wala, my reliable tour bike. On 15 Feb there's a shuttle to Tapotupoto Camp for one night. Start the official Tour Aotearoa route on 16 Feb from the Cape Reinga Lighthouse.
Equipment
Using the same bike as other tours, Khojana Wala. Bags are Carousel Design seatbag and front roll, Cleveland frame bag, fork bags and front pocket, Revelate top tube bag. Schmidt dyno hub, White Industries 10sp rear hub, IRD friction thumshifters, Suntour XC Pro levers and Shimano low profile cantilever brakes. 26″ Velocity Aeroheat rims with Schwalbe Marathon Mondial 50-559 tires. Jones 660 SG bar, Profile Design T2+ aerobars, Brooks Ti Swift saddle.