These are some of my journeys in a variety of modes:
Future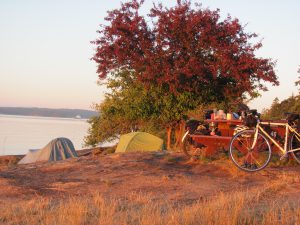 – Ideas and Plans
Jan 2021 – Ran half-marathon in Sequim.
Feb 2021 – Began another 12 week half-marathon training with Christine. OAT Race in April.
Nov 2020 – Began 12 week half-marathon training with Christine.
Oct 2020 – Road trip to MN to help parents move and tow a car back for Peri.
Sept 2020 – Hike Striped Peak with Christine. Overnight on the Elwha with Peri, John and Betsy. Tripped and busted out teeth. Sol Duc coho salmon watching. Dungeness Spit sunrise hike.
Aug 2020 – Upper Lena Lake 3 day backpacking trip with David and Glenn. 4 day bike tour Palo Alto/Fort Flagler/Sequim Bay. Lots of long beach hikes with Christine.
July 2020 – Olympic Mountain hikes! Over a week near Butte Falls, OR on a friend's off-grid property (pre-Obenchain Fire) with Mark.
June 2020 – Test tour to Sappho, WA.
Jan-March 2020 – Adventure Cycling Leadership Training, exploring Arizona. Trip cut short in March due to COVID-19.
Feb-May 2019 – Visited my daughter in Australia and then headed to New Zealand to solo tour the Tour Aotearoa route from Cape Reinga on the north island to Bluff on the south island, a 3000 km/1864 mi bikepacking trip. Back to Australia where we explored the southeast corner together in a campervan for 6000km over 3 weeks!
Aug 2019 – Vancouver-San Juan Island Tour with Mary & David
Aug 2019 – Tour de Lavender with Mary & David
Sept 2019 – WACANID Selkirk Loop Tour
Oct 2018 – Iron Horse Trail Tour with David
Aug 2018 – Little River Backpack with Peri
July 2018 – Madison Falls to Appleton Pass Ride with Eric
July 2018 – Vancouver Island Cycle Ramble
July 2018 – Lake Ozette Kayak Trip with the assclowns
June 2018 – Hurricane Hill hike with Peri
Dec-Jan 2017 – Cancun, Mexico Family Trip
September 2017 – British Columbia: A Tour of Two Seasons with Mary
Oct 2017 – Pacific Coast roadtrip to visit friends
February 2017 – Snowy Bday overnight in Victoria
October 2016 – Mt Angeles, Grand Ridge, Dungeness Spit out & back hikes
Sept 2016 – Vancouver Island, BC bike tour with David
July 2016 – Ride & camp Deer Park
June 2016 – Goat Lake Hike with John W, Pacific Marine Circle Route Bike Tour with Mary
May 2016 – Kayaking Hood Canal – Puali Point with Kayak Brinnon, Kayaking Sol Duc River, Adventure Route with Eric
April 2016 – Hiking Rialto to Hole-in-the-Wall with Carrie & Tacy, Kayaking Dungeness Bay
March 2016 – Death Valley Super Bloom with Julie
Feb 2016 – Hurricane Ridge Snowcamp with John, Cath & Jim
Jan 2016 – Little River, Heather Park, Peabody Creek Hikes, Elwha Hike & Bike, Hurricane Ridge Snowshoe and ODT, PA to PT Rides
Dec 31-Jan 1 2016 – Shi Shi Beach New Year Camp with Julie
Sept-Nov 2015 – Northern India Himalaya Cycle Tour with David
July 2015 – Shi Shi Beach
June 2015 – North Cascades Bike Tour
May-June 2015 – Kayaking Elwha, Ozette, Freshwater Bay, Salt Creek, Dungeness
May 2015 – Lake Angeles-Heather Ridge Day Hike
Aug 2014 – Royal Basin Backpacking with Peri
July-Nov 2013 – Big European Adventure, New York to Romania
April 2013 – Maui with Cycling Fusion
Jan-Mar 2013 – Taught Cycling Fusion Winter Training Program
Dec-April 2012 – Methow Valley XC Skiing
May & July 2012 – Hoh River and High Divide Backpacking
Dec-Jan 2011-12 – Amsterdam & Paris with Martin
Feb-April 2011 – Summit County, CO Skiing
Feb 2011 – Surf City Marathon, Long Beach, CA
Aug 2010 – Three Volcanoes 300 km
June 2010 – North Cascades 600 km
May 2010 – Flat and Fairly Fast 400 km
April 2010 – NW Crank Wenatchee Ride Camp
March 2010 – Spring 200 km, Mostly about Jimmy
March 2010 – 100 km Populaire
Jan-Feb 2010 – Summit County, CO Skiing
October 2009 – ODT Adventure Route with Eric
Aug 2009 – To Tri without Training
Jan-Feb 2009 – Summit County, CO Skiing
April-July 2009 – Fleche, three 200km brevets, a few centuries
September 2008 – 200km Permanent Debut
Aug 2008 – Olympic Peninsula S24HO with Kent and Matt
Aug 2008 – SIRs RUSA 10th Anniversary 200 km
April 2008 – Circling the Hood Fleche
Feb-March 2008 – Summit County, CO Skiing
August 2007 – Paris-Brest-Paris 1200 km
July 2006 – 1000 km & 555 km of Cascade 1200 km
Sept 2005 – Oregon Coast, Portland to Eugene Tour with Carrie
Aug 2003 – Paris-Brest-Paris 1200km
Aug 2003 – Raid Pyrenee 800 km
July 2002 – Rocky Mountain 1200 km
July 2000 – Port Townsend, WA to Minot, ND Tour with Dad
Sept 1996 – Perimeter Tour of the Olympic Peninsula
July-Aug 1994 – European Exploration with Carrie
April 1992 – 2 week backpack solo in the Olympics
1991-1992 – Lived on a wooden sailboat with Carrie
July-Sept 1990 – North to Alaska, Seattle, WA to Fairbanks, AK Tour with Bill